Given the range of automobiles in Volkswagen's current line-up, you'd be forgiven for thinking of them as something of a German Chevrolet. From the entry level spunkiness of the Rabbit/Golf to the everyday practicality of the Jetta to the SUV stance of the Toureg, VW covers the spread for performance, style and price.
Not long ago, Volkswagen jumped into the ultra-premium market with the ill-advised Phaeton. Meant to compete with the highest-level German sedans from BMW and Mercedes, it ended up both looking too much like its lower-priced siblings and undercutting sales for sister company Audi.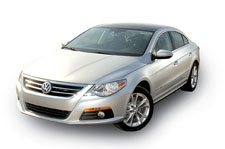 Volkswagen CC
With the Phaeton out of the line-up, Volkswagen is taking a new, more measured approach to its top tier, with the more reasonably priced and stylishly designed CC.
That's not to say that the CC doesn't bump up against the same upper-level sport sedans – in fact, the sleek styling cues owe a bit of debt to the Mercedes CLS four-door coupe. But at about $30,000 less, the CC offers a more positive approach in today's more cautious economic times.
2009 Volkswagen CC VR6 4Motion
MSRP: $39,300; $42,630 as tested
Gas mileage: 17 city/25 highway
Highlights:
Gorgeous styling make the CC stand out both inside and out, with
sporty handling an even bigger bonus.
Lowlights:
Gas mileage not the greatest for urban driving; must-have options
drive the price up quickly.
Behind the wheel of the CC you'll find yourself in charge of a sharply appointed interior that's elegant without being ostentatious. All four seats are comfortably snug, and minor amenities abound. The best seat, of course, is the driver's, where you'll enjoy some powerful performance from the V6 engine and steady handling from the all-wheel drive system that comes with the top-of-the-line model.
While the CC feels more expensive than it is, it's not necessarily cheap. The base model CC starts at under $30,000, but moving up to the large engine and all-wheel drive can quickly push things over $40,000. If you're in the market for such a solid, sharp sedan, that may well be worth it.