It may not be the season for sizzling, but if it's balmy you're after you can go quite a bit higher than 30 Degrees. Just take the stairs up to Cobalt Saturday night, Feb. 7, where Channel 1 Releasing exclusives Cameron Marshall and Blake Riley will be providing steam heat.
Lest they get too out of hand mingling with their fans, house mother Chi Chi LaRue will be mixing in the DJ booth, keeping an eye on her boys. Though not too close an eye — she knows what you like.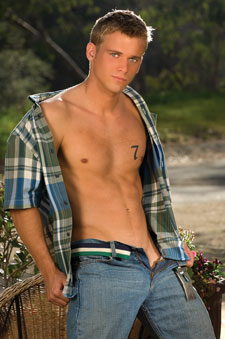 Cameron Marshall
"She looks out for me," says Cameron, 22, a born-and-raised Texan who still calls Lubbock home. "She was worried California would get to me. She's like my parent figure."
With eight movies under his belt and another set to release — it's called Cream Filled Twinkies and is set in a bakery — Cameron isn't exactly a newbie, but he is a D.C. virgin. If he can manage some free time, he's hoping to take in some of the city's museums, leaning toward art rather than dinosaurs or rockets, as come August he'll be finishing up a graphic-art degree.
Blake, on the other hand, has a few more titles to his name and it ain't his first time in the D.C. rodeo.
"I lived in Maryland for about four months, dating Sebastian Rivers from RandyBlue," Blake says of his hunky former beau. "So I've been to D.C. a couple of times and did all the touristy stuff. But a tour of the White House would be cool."
Like Cameron, Blake is also from Texas, but calls California home now. Being closer to the action might make it easier to make the movies, but Blake says the best part of his job is getting to travel to gigs where he meets the fans. The worst part of the job, sadly, is that it turns sex into work.
"Don't get me wrong, it's still fun," he says with a laugh. But is there no fear that the drudgery of the daily grind won't kill his libido? "I'm 23. Nothing's going to kill it."
Actually, Blake has so much erotic energy it can't be contained in his body alone. Some of it is making its way to the masses in the form of the "Blake Riley Vibrating Ass," molded from Blake's own enviable butt. It's waterproof and features a "hand-painted anal opening." If you've already made the $189.95 purchase, you might even consider bringing it along Saturday.
"If you've got the nerve to bring it," Blake promises, "I'll sign it and even take a picture with you."
Cameron Marshall and Blake Riley will entertain and Chi Chi LaRue will DJ on Saturday evening, Feb. 7, at Cobalt, 17th & R Streets NW. Cover is $7. Call 202-462-6569 or visit www.cobaltdc.com.