"I had never bartended before in my life," says Eduardo Sevilla Jr. of the time five years ago when he went from being a regular at the no-name bar below Floriana — and before that, Mercury Grill — to being its namesake. Dito is Sevilla's nickname. It's been the bar's name for the past two years.
"I came to realize within the first week that it wasn't so much about making the drinks, it was simply about making guests comfortable," he says. Which is not to say Dito doesn't make a mean drink. "I think I've become an accomplished bartender" since starting in 2004. In particular, he's rightly proud of both his manhattan, with the addition of tawny port, and his smooth cosmo, with freshly squeezed lime juice. The emphasis is on quality ingredients.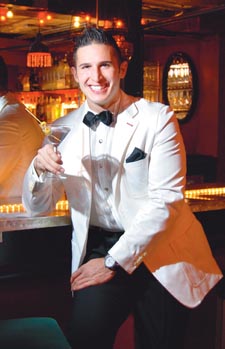 Eduardo "Dito" Sevilla
The emphasis, in fact, is on quality all around — from the drinks to the clientele to the conversation. "It's a great combination of camaraderie and quality drinks," Sevilla says. "It's about creating personal relationships with the customers that keep them coming back."
There's also the quality of the intimate space. There are only 16 stools, and the bar can handle no more than 25 people at any one time.
"Quite simply, architecturally there's nothing else like this in D.C. that I know of," says Sevilla. "It's a tiny room, under a restaurant, that was once [only] a service bar that turned into a regular haunt, a fun little place." He considers it a great place to start a night of barhopping, or to bring a first date.
Before the 30-year-old became the bartender and manager, working for Floriana herself, Sevilla held several odd jobs, from selling advertising to counseling at a cosmetic surgery center. In 2001, Sevilla served as Mr. Capital Pride. "Once a year during Pride, I'll pull the sash out of mothballs and remind everybody — there's a legacy in the room," he jokes.
A D.C. native, Sevilla was born into a long line of Nicaraguan diplomats based in the city. "I've lived less than three miles from the spot where I was born for my entire life, but for the year I went to college in Delaware," he says.
He also lives only a couple blocks from the bar — which, of course, is as much home as anywhere else.
"It's like being at home and constantly having people over for happy hour," says Sevilla. "But, I get to charge them. And get a tip."
Sevilla tends bar every day but Thursday and Sunday at Dito's, 1602 17th St. NW. Happy Hour is daily from 5 to 7 p.m. Call 202-667-5937.