Growing up as a teenager in Durham, N.C., was not easy for José Ramirez. He remembers the embarrassment of the school bus arriving some mornings, all the kids on the bus getting a front-row seat for his stepfather drunk and passed out in front of his house. Then there was that Thanksgiving night his brother got shot while trying to steal a go-kart. Like his mother, he spent much of his time working.
But come hell or high water — or just the hardscrabble reality of working-class Durham — José Ramirez was determined to make the most of his situation.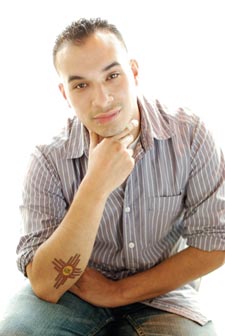 José Ramirez
"It was hard as hell, but you know what? It was really cool," he says of those days, adding with a laugh that coming out wasn't a problem, no matter how rough the environment. "When I came out, a lot of people told me they already knew. I was fucking around with a lot of boys. The football players were all over me."
Ramirez's sexual orientation even gave him a leg up, providing a means to softening his environment. He found, in his words, a "sugar daddy." Ramirez was 17 — he guesses the man was in his late 30s during their relationship, which, like those dalliances with the guys his own age, included unprotected sex.
"He was taking care of me, helping me out, giving me extra coin, extra money. So, hey, I'm not going to ask more questions."
What Ramirez had asked the older man 10 years ago was why this man had gotten so sick. What was wrong with him? The answer he got was diabetes. Not long after, that man was gone.
"He disappeared. One of his friends told me he was pretty sick and had been diagnosed with AIDS. He was in Virginia with his mother. The first time I got tested after that, it came back negative. Then I went back, and it was positive."
Back to reality.
Ramirez says that he allowed himself some weeks to come to grips with his HIV status, with tears and anger. Like a switch, though, his grief turned to resolve. He felt forgiveness for his "sugar daddy," whom he feels certain lied about his status, knowingly putting Ramirez at risk. But Ramirez says he should've done a better job at protecting himself, even at 17. Letting go of that, it was time to turn his attention to himself.
"It was heavy, but the thing about living with this is you can't let it beat you. It's not going away, so do something about it. Be happy. I'm going to do me. I had to move on. I don't have time to sit around and mope."
No, Ramirez has not moped. He's been active in multiple causes, in multiple locales. In Durham, he got involved with the North Carolina Lambda Youth Network and helped educate other young people, particularly Latinos, about HIV. He moved to New Mexico and worked as a client advocate at the Albuquerque Rape Crisis Center. He's worked on immigrant issues, himself the D.C.-born child of immigrant parents, housing issues and other causes. Now, at 27, he's back in Washington and working in HIV education and prevention at La Clinica del Pueblo, a non-profit clinic in Adams Morgan offering health care to lower-income members of the local Latino community. He's particularly fond of the El Salvadorian flavor of the clinic, the origin of his paternal roots.
"Most of the patients [come] from El Salvador. Every time I go into La Clinica, I feel like I'm going to El Salvador. You have a lady who sells tamales and shit. You have the culture, the music, people speaking Spanish. It's like Days of Our Lives working there. You have the drama, the scandal, but there's the bomb-ass work that they do."
It's hardly a Central American vacation, however. Not that Ramirez would necessarily know how to kick back in a hammock — visiting the tiny Salvadorian town where an aunt lives, for about four months, he started community sex-ed classes, HIV outreach and a women's exercise class. Back in Washington, aside from his volunteer work at Whitman-Walker Clinic's STD clinic and with the mobile testing unit, he's out in the streets, meeting youth on their terms.
"People need to be educated. I go to, like, the bus stops at Columbia Heights, where young people really hang out. There's the 7-11 on Columbia Road, cruising parks where young, gay guys go to have sex — Malcolm X Park, Union Station, places like that."
The fact that those places are seen as dangerous makes them even more important, says Ramirez, just as it's important to have conversations that some might find uncomfortable.
"People don't educate young people about HIV and STDs, especially in communities of color, because we don't like to talk about sex. Well, we do, but our parents don't."