Has Depeche Mode, pioneers of dark electronica, seen the light? "Just look at me," lead singer Dave Gahan sings on "Peace," from the band's new album, Sounds of the Universe. "Giving all the positivity that I possess, I'm going to light up the world." His voice soars skyward, giddily, on that last word, and you know it just has to be a cheeky joke. This is Depeche Mode, after all. The band, together now for almost 30 years, has given very little positivity or light. It's dark and it's dour.
And it often drones. There's a steady hum to much of Depeche Mode's strongest output — think of that featured on 1990's Violator. The music churns in a compressed register — and Gahan keeps his singularly strained, wounded voice in check. The band's excitement and especially anger may be electronically embellished, but the overriding sensibility is generally measured, restrained, resigned.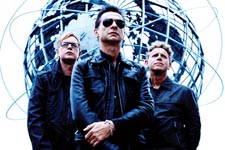 Depeche Mode
(Photo by Anton Corbijn)
It can turn dull, or get stuck in a despairing funk. Take the band's middling output since keyboardist and production wiz Alan Wilder left in 1995. The most recent release, 2005's Playing the Angel, featured several great, ravishing songs — "Precious," for example, is one of the band's very best. But overall, it was depressed, and depressing, and it ended on a creepy note — a place where angels fear to tread, clearly. Chances are you didn't tread there much, either.
Sounds of the Universe, on the other hand, rewards frequent treading. The album builds slowly and moves steadily forward, in a droning progression, never lurching or leaping. The first track, the simmering rocker "In Chains," sidles into sound, with Gahan singing almost seductively: "The way you move, has got me yearning. The way you move, has got me burning." The way the album moves will have you first yearning, then burning, too. A press release touts Sounds of the Universe as a "Violator for the 21st Century," a claim that first registers as preposterous.
On the first few listens, the album sounds a bit soulless, a shadow of Modes past. But the more you listen, the more you come to realize the album's understated vitality — clearly more the result of a better working arrangement and group dynamic than simply the return of producer Ben Hillier. Sounds of the Universe is consistent, and consistently good, with a steady musical hum, just as on Violator, the band's unqualified masterpiece. Sounds of the Universe is, in fact, the best Mode album since Violator.
And yes, it does glance in the direction of happy at a couple turns, and not just in sarcasm — though certainly the band still begrudges happiness. "Peace," a future single, is a "techno-gospel" song very much in the joyous mode of Erasure — a duo founded, of course, by original Mode member Vince Clarke. Both Gahan and bandmate Martin Gore sing the "Peace" choral chant as a duet: "Peace will come to me." It's not here yet, but they're optimistic. Or at least realistic. "It's an inevitability," Gahan ad-libs at song's end. On "Little Soul," Gahan resigns himself to goodness. "I can't disguise the beauty inside me. My little soul will leave a footprint."
DEPECHE MODE
Sounds of the Universe
Mute/Capitol/Virgin
$18.98

"We are here, we can love, we share something," Gahan sings on "Hole to Feed." The jaunty song is not exactly happy. It's about the slippery slope of needs fulfillment, a clever, cynical way of saying, effectively, you just can't get enough. "When you get what you need, there's no way of knowing," Gahan sings, "what you'll have, is another hole to feed." "Hole to Feed" is one of three songs Gahan co-wrote here with Christian Eigner and Andrew Phillpott. Gore is no longer the group's sole songwriter, and Gahan is proving his songwriting mettle. Though as a solo artist his work has been forgettable at best, his contributions as Depeche Mode are mostly on par with Gore's. In fact, Gore is responsible for the set's weakest tracks here: the wholly out of place and off-kilter torch song "Jezebel," and "Spacewalker," an eerie, Daft Punk-styled instrumental, nothing more than filler.
Despite some flirting with happiness, the predominant sentiment remains the band's trademarked anguish and regret. First single "Wrong" is a blaring declaration of sheer and utter failure — a surefire anthem for the band's summer stadium tour, it's a song that succeeds in spite of itself. "I was in the wrong place, at the wrong time, for the wrong reason and the wrong rhyme," Gahan hammers. "On the wrong day, of the wrong week, used the wrong method with the wrong technique."
The band has been mostly wrong for too long, but no longer. With Sounds of the Universe, the band gets things mostly right.