Everything about the world-premiere musical Giant at Signature Theatre is as big as the title suggests. The "Texas-sized" musical features an ambitiously scaled concept, a sprawling songbook and a sound suitable to reach the back of the back 40.
Unfortunately, one critical element has failed to achieve its full height — the story. While much can and should be said about the drive and desire to create a wholly unique kind of musical that crosses as many stylistic borders as Giant, where it often falls short is in the evolution from creative spark to actual stage play.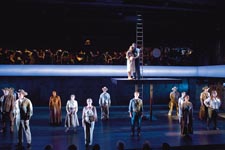 'Giant' at Signature Theatre
(Photo by Scott Suchman)
Michael John LaChiusa has crafted an intriguing (sometimes overly indulgent) cycle of songs, but there is simply too much plot left for the audience to parse out on their own. There are too many characters casually dropped on and off stage. Too many relationships left at loose ends. Too many leaps audience members are expected to make to fill in gaps of time and transformation.
And when you're considering a musical that comes in at some three-and-a-half hours, such failures can soon leave an audience wandering alone in the desert wondering when something familiar will come back into view. Assuming some don't simply wander off altogether.
For those who have never read Edna Ferber's novel or seen the movie version featuring Hollywood heavyweights Elizabeth Taylor, James Dean and Rock Hudson, Giant follows the lives of Jordan "Bick" Benedict (Lewis Cleale) and his wife Leslie (Betsy Morgan). They meet when Texas rancher Bick heads east to buy a racehorse from Leslie's prominent Virginia family. It's love at first sight and, in just a few songs, Leslie has been relocated from Virginia to the "country of Texas" where the new bride quickly learns three things.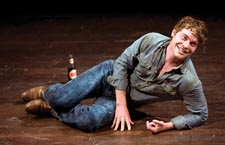 First, Bick's sister Luz (Judy Blazer) is less than thrilled to meet her new sister-in-law.
Second, the less time spent alone with the strangely intense mechanic the better.
And third, don't talk to the Mexicans.
You see, Giant is set in the Texas of the opening half of the 20th century. Mexicans and Mexican Americans are members of the household staff on Bick's Reata Ranch, but they are not part of the household. Mexicans and Mexican Americans attend separate schools and go to separate medical clinics and can be refused entrance to restaurants and hotels.
While some might bristle at the suggestion, there is something of Tara in this Giant's Texas. Like Gone with the Wind, this musical version of Giant is about the fading away of a place and a romantic time that outsiders are led to believe they can never truly appreciate or understand. The greatest love and loss for the characters populating Giant — the closest friend and most threatening nemesis — is Texas.
And that sense is certainly evoked and communicated with LaChiusa's music and lyrics. Audience members will be welcomed by Raul Aranas singing the beautifully hopeful yet plaintive "Aurelia Delores," one of several songs influenced by the sounds of Mexican folk music. In fact, another of the show's most striking visual and aural moments is the wailing "Ruega por Nosotros" featuring Michelle Rios as Lupe.
For cast members with relatively small roles, Aranas and Rios stand out for the vibrancy and true sense of place that they bring to the stage.
GIANT
To May 31
Signature Theatre
4200 Campbell Ave.
Arlington
$49-$77
703-820-9771
www.sig-online.org
An equal standout is Katie Thompson as Vashti, the literal "girl next door" whom everyone thought Bick would marry. Thompson is a stunner who grabs the audience with her first song, the lovesick ballad "He Wanted a Girl," and carries them through some of the show's best numbers.
A hallmark of those performances — songs like "My Texas" and "Midnight Blues" — is their clarity and here we get into a production issue with Giant. Staged with the orchestra set in the open and directly opposite the audience, LaChiusa's intricate lyrics (the composer could set the dictionary in just four bars if pressed to do so) are too often lost in a tangle of instrumentation and dimmed voices.
Cleale has the kind of big, muscular voice one would want for Bick, but even he seems to strain to match the sheer volume of the musicians. Blazer deals with similar issues which, in the case of her introductory number "No Time for Surprises," forces what begins as a Patsy Cline-twinged sound into a country caricature.
Giant is a musical whose ambition deserves recognition but whose execution falls short. It struggles to find an identity that allows it to be faithful to the material that inspired it while being legible as a theatrical production. Ultimately, Giant fails to find true resolution and ends up giving us song without story.