For a few minutes on Tuesday, May 5, the hallway outside the D.C. City Council's chambers, on the fifth floor of the John A. Wilson Building, was filled with chaos.
A group of ministers and their supporters opposing marriage equality were outraged by the Council's final 12-1 vote on an amendment to a bill, the Disclosure to the United States District Court Act of 2009, which now includes the language: "A marriage legally entered into in another jurisdiction between two persons of the same sex that is recognized as valid in that jurisdiction … shall be recognized as a marriage in the District."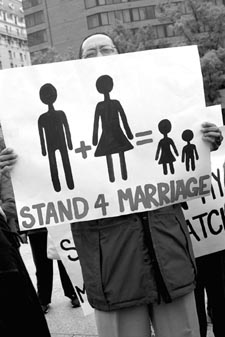 As they exited the Council's chambers, D.C. resident Paul Trantham led supporters in an angry chant: "Vote them off the Council," he shouted, "each one of them," as others joined in. "Off the Council! Off the Council! They are destroying our youth."
"Do not put them back in that seat," Trantham implored.
Bishop Harry Jackson, senior pastor of the Hope Christian Church in Beltsville, Md., who led a rally against marriage equality in front of the Wilson building on April 28, remained calm after the May 5 vote as he explained to reporters what he plans to do next.
"Where we go is legal avenues, political avenues, which we talked about, going to the Hill, and then grassroots awareness. Â… People in D.C., many don't even know the vote's taken place. We're going to pursue all three of those directions."
Jackson said that D.C. is not ready for marriage equality.
"I know that the Council said last time that they believe this is the very first step toward that end, they're very clear on that. So I think this is a frontal assault, there's a strategy that they have, but I don't think the District is ready for same-sex yet."
Several local GLBT activists, including David Mariner, Peter Rosenstein, Bob Summersgill, Brian Watson and Sterling Washington, attended Tuesday's meeting to witness the vote, some wearing white to show support for marriage equality. After the vote, some attempted to engage in dialogue with people opposing the vote.
That included Richard Rosendall, vice president of political affairs for the Gay and Lesbian Activists Alliance, who engaged in a heated debate with Rev. Raymond C. Bell, senior pastor of the First Rising Mt. Zion Baptist Church in Northwest.
"He was insisting that we are going to try to force the ministers to perform gay marriages, and I said, 'You're mistaken. If any such effort was made, I would submit an amicus brief defending their right to refuse to conduct marriages of which they disapprove," Rosendall told Metro Weekly after the exchange. "I don't know any single gay-rights activist who has ever advocated such a thing. It's absurd."
When speaking to Metro Weekly, Bell said he believes the City Council's vote will "hurt the citizens of Washington."
"It's not about equality and justice," Bell added. "It's about morality. And morally, homosexuality is a sin. Why not legalize adultery now? It's a sin. Why not legalize lying? It's wrong. Why not legalize any other sin the church recognizes? We're not in favor of any sin. And that don't mean that we don't love you, or that we don't try to get you to where God wants you to be."
Local transgender activist Jeri Hughes lauded Rosendall but said her experience in engaging in dialogue after the vote proved pointless.
"They refuse to speak rationally," she said. "They talk about slippery slopes and incest and sex with children and things that are totally irrelevant to equality or two consenting adults."
It's probably not what Yvette M. Alexander (D-Ward 7) envisioned when she asked, during the May 5 meeting, that members of the GLBT community and ministers work together on the marriage issue.
"This is not the end to this subject, this is only the beginning," she said. "I know it's coming down the pike, gay marriage in D.C., so let's all work together, let's understand each other before we point fingers."
Alexander said that when she told members of the Gertrude Stein Democratic Club that she did not support same-sex marriage in D.C., they still endorsed her.
"They did not agree with my position, but they endorsed me because they realized all of the good work that I had done for the gay community and all the support I had given them. But when I did not agree on that one issue, they did not negate all of the good work that I did."
She said her support for recognizing same-sex marriages from other jurisdictions in D.C. has led to some ministers labeling her immoral and saying that she is not a Christian.
"Let me just state for the record, this is a question of fairness, of recognizing what other states recognize. I can honestly say I'm still at odds with the issue of gay marriage in [D.C.]. I still want to learn more about that issue. But I do know one thing. I know that everyone is equal under God."
Councilmember Marion Barry (D-Ward 8) was the only member to oppose the legislation. He was originally signed on as a co-introducer, but he asked the Council on Tuesday to remove the bill from the consent list and open it up to discussion before a final vote.
"I'd like to speak against bill. It's been a very agonizing and difficult decision," Barry said.
"I feel comfortable with this position, because I know where my heart is. I know where my history is. And so I'm representing my constituencies. I'm representing my own philosophy at this point Â… and I've thought about it long and hard."
As to his previous position as a co-introducer, Barry said his staff signed him onto the legislation while he was in the hospital.
Barry said he remains a friend of the GLBT community, citing his "journey" in advocating for the community since 1971 when he was president of the school board and successfully fought against the firing of an openly gay teacher.
"We're together on this, except for this instance. I'm going to vote 'No."'
Councilmember David Catania (I-At large), who is gay, said it's a matter of equality.
"There is something to be said about evolving positions, and I hope that we all evolve. But there is one thing that I can say with certainty: that marriage equality will soon be a legality in this whole country. It will happen in our lifetime, and there is no turning back.
"To say, 'I support domestic partnership' or 'I support civil unions,' is a way to say, 'I'm not that big of a bigot,"' Catania said, before apologizing and clarifying his point.
"Because of your historical and strong commitment to the GLBT community, your position is bigoted. I don't think you are," Catania said. "And so if I've offended you I am sorry. Naturally Mr. Barry, it's hard as a friend for me to sit here and have you vote for a status that you enjoy, but that I cannot."
Councilmember Jim Graham (D-Ward 1), who is gay and in the past was married to a woman, praised Barry's GLBT efforts in the past.
"In 1983 Â… Mayor Barry was with us at Whitman-Walker Clinic and made an absolute difference. And I have never forgotten that," said Graham.
"I have gone from denying my sexuality, to overplaying it at one point, to finding the right balance. Â… Reaching a point in time that I can vote for this is an extraordinary event."
For Ed Grandis and his partner J.D. Campos, who wed in California last year and wore copies of their marriage certificate on T-shirts while standing outside the Council chambers, the vote was another step toward their union being legally recognized in the District.
"We are delighted that the government recognized equal protection under law," Grandis said.
"This is not about religion," Campos added.
After the Council vote, many of the same protestors who rallied on April 28 stood again on Freedom Plaza, singing and holding signs reading "No Same-Sex Marriage." For this encore, however, they stood behind a bride and groom, while Jackson officiated a marriage ceremony.
"We're a young couple that was already going to get married," said the groom, Jonathan Paul Ganucheau, 24, of Fort Worth, Texas. "We heard about the rally going on and we heard that they were interested in having a young couple get married as part of the rally. We were just willing to do that."
At the rally, Ganucheau married Denise Buckbinder, 26, also of Texas.
Holding her hand, Ganucheau talked about why they had decided to alter their plans of marrying later in the year with family and friends on hand, instead standing with those opposing marriage equality.
"We just want to stand for righteousness in this nation, [by] just believing that marriage is defined by a man and woman together. We just wanted to be an example of that."
Following the Council's veto-proof vote, Mayor Fenty may sign the legislation, as he has pledged support for marriage equality. It will then be subjected to congressional oversight.
To support marriage equality in the District, contact DC for Marriage, a project of The DC Center, by e-mailing info@dcformarriage.org, visiting www.dcformarriage.org, or calling The DC Center at 202-682-2245.