"I didn't know what was happening — I thought he was having a mid-life crisis or something," says composer Michael Shaieb of a close friend and writing partner who was never available to work. Turns out his friend was dealing with meth addiction. The experience informed Through A Glass, Darkly, a composition Shaieb had been commissioned to write a month before his friend's admission, when Shaieb knew little about the issue. "It blew my mind," says Shaieb. "All this time I thought I was just taking a project on, a commission for a piece that I could learn about."
The Gay Men's Chorus of Washington performs Shaieb's unusual, edgy 45-minute piece as its annual pride show this weekend. Through A Glass, Darkly focuses on "one guy's descent to the bottom" of partying with crystal meth and the frustrated, worried boyfriend he's left behind at home. Originally commissioned by Minnesota's Twin Cities Gay Men's Chorus, choruses in Miami, Philadelphia and San Diego have also signed on to stage it.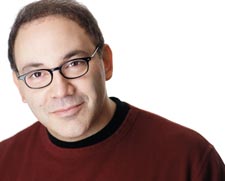 Michael Shaieb
The piece is unlike anything else in the chorus movement. It's more theatrical, a reflection of Shaieb's background, which includes musical-theater compositions written with his boyfriend of 10 years, Brent Lord. The piece also incorporates club music into its more traditional choral repertoire. The 47-year-old composer credits the Moody Blues' 1967 album Days of Future Passed, which mixed orchestral music with classic rock, for convincing him the unconventional mix could work.
"The whole idea of this piece is hope," Shaieb says, with the protagonist realizing his self-worth and that his friends care about him.
"This is a way for the community to say 'We have to look out for ourselves,"' says Michael Sessa, chair of the D.C. Crystal Meth Working Group, a sponsor of the performance. "We can't let ourselves get swept away."
GMCW will perform Through A Glass, Darkly Saturday, June 6, at 8 p.m. and Sunday, June 7, at 3 p.m. A panel discussion with Shaieb follows Saturday's performance. Lisner Auditorium, 730 21st St. NW. Tickets are $20 to $50. Call 202-293-1548 or visit www.gmcw.org/tickets.