"I feel like there's momentum now, finally in the country, toward sanity," says Valerie Harper. The veteran actress, this year's Capital Pride Celebrity Grand Marshall, is talking about gay acceptance in general, the advance of gay marriage in particular. Harper thinks there will be more backlashes like last year's "appalling" Prop 8, in which voters in her home state of California approved a ban on recognizing same-sex marriages. "To ban a certain group of people and limit their rights? It's outrageous. But, in a way, it's the wind in the sails of the movement."
The 68-year-old Harper got her start in show business as a dancer and chorus girl on Broadway, but rose to national fame in the 1970s playing Rhoda Morgenstern on The Mary Tyler Moore Show and then on her own successful spinoff, Rhoda. Harper earned four Emmy Awards in nearly a decade of playing the Jewish firecracker.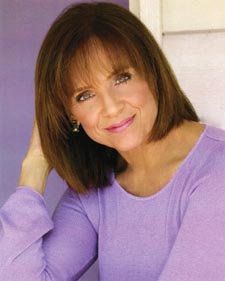 Valerie Harper
Unlike many of her contemporaries, Harper has never shied away from gay rights. She was one of the first celebrities to agree to an interview with the The Advocate, soon after the seminal gay magazine was launched in the late 1960s. Celebrated writer Vito Russo "asked my manager if I'd do an interview for The Advocate, and I said, 'of course!"' Harper recalls. "He thanked me and said, 'you're one of the first. People don't want to do it because it's gay.' And I said, 'Oh, God! We're one family."'
Harper hopes to shoot a pilot for a "brand new" television series, as well as star in a "beautiful" independent film, later this year. Now, however, she's in Washington, starring in a play about legendary movie star Tallulah Bankhead, billed as the original celebrity bad girl. The play, Looped, doesn't shy away from Bankhead's bisexuality. "She was quite outspoken," says Harper. "She was very out about her lesbian affairs. And her affairs with men — All the stuff she did. The hard drinking, the cocaine-taking. She was hilarious and funny and witty."
Matthew Lombardo wrote Looped based on an actual "looping" session with Bankhead, when film editors struggled all day to get usable audio from her while making the film Die, Die My Darling, Bankhead's last. "It takes all day to get it from this volcano of a human being," Harper says about Bankhead. Lombardo sent Harper and her husband Tony Cacciotti — Harper's "partner in business and in life" — the script about a year ago. They both immediately signed on, Cacciotti as a producer and Harper in the lead role. "I just thought it would be a fascinating character to play," Harper says. She credits director Rob Ruggiero for helping her make Bankhead a believable character, not an exaggerated caricature. "That's a trap, because she's been parodied so many years by so many people."
After a run last summer in Pasadena, Calif., and late last year in West Palm Beach, Fla., Looped is now running at D.C.'s Arena Stage at the Lincoln Theatre. A move to Broadway is planned for the fall.
Harper says she's been surrounded by openly gay people from the get-go. "In my early life, there was no coming out because I was a ballet dancer," she laughs. "All the boys were there and it was very open. It was the '50s, but it was open."
In fact, she's only had someone actually come out to her recently — a family member, about 10 years ago.
"It was so nice because we thought this person was on drugs," Harper explains. "He was acting weird, and he said, 'I've got to talk to you.' And we thought, 'Oh my god, he's either got a dread disease, or he's gonna talk to us about drugs.' And he said, 'I'm gay.' And the whole family went, 'Ah! We're so relieved!' It was a very marvelous thing. It was very sweet for him, but it was nothing for me.
"You know the old bromide, 'Some of my best friends are gay?' Well, it's true! It's always been true with me!" she says.
"[Being gay] is something to be celebrated," Harper says. "It's just so stupid to me, I don't get it. It's so, so arrogant to say, 'Curtail your life for my comfort.' When the Christian right does that, they're asking people to live in secrecy or not live at all. 'You curtail your life, you lessen yourself, you diminish everything and live in secret for me to be comfortable.' It's so, so… anti-human."
Harper is especially thrilled with her role in Capital Pride this year. It will be her first time participating in a gay pride parade.
"I know it's a well-attended parade, so I'm really excited about it," she says. "It'll be great fun."
The Capital Pride Parade is Saturday, June 13, rain or shine. Step off is 6:30 p.m. at the intersection of 23rd and P Streets NW.