The DC Cowboys have been hot in Washington since forming in 1994, long before they appeared on the third season of America's Got Talent in the summer of 2008. Of course, performing for millions of people nationally on NBC — and making it to the show's semi-final rounds in Hollywood — hasn't hurt the all-gay dance troupe's popularity either.
"Little did we know that straight women would also be our fans — besides the gay community," Kevin Platte, founder of the group, says with a laugh.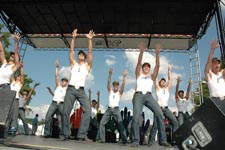 "America's Got Talent really helped us with getting our name out there. It's a really good résumé piece. We don't have to describe who we are and what we do. People automatically, if they've seen the show, know who we are."
Platte says in addition to being proud of his group's accomplishments on America's Got Talent, he's also proud of the group's longevity.
"We've been around now for 15 years," he says. "I never thought we'd make it out of five or six years. I just continuously get surprised at our success."
Platte calls the experience "enriching" for everyone in the troupe. "We're just so happy that each year it just gets better and better and we have more and more opportunities and more exciting things to happen to us."
Those exciting opportunities include an invitation to perform at the upcoming Sziget Festival in Budapest, Hungary. The weeklong summer music festival, Aug. 12 to 17, features artists such as the Prodigy, the Offspring and Lily Allen.
The DC Cowboys were invited to perform during the "Magic Mirror" event, which organizers created to "present gay and lesbian cultural events at the Sziget Festival with the aim to decrease prejudice against homosexual communities and to promote their social acceptance in Hungary." It will also mark the DC Cowboys' first engagement outside of North America.
That's a big accomplishment for the group that first formed when Platte recruited 12 locals for a "little performance," what he thought, at the time, would be a "one-time shot."
That first performance was so well received that Platte decided to keep the DC Cowboys going. With half his initial troupe bowing out after that first performance, Platte rebuilt the Cowboys by recruiting other dancers.
"It just turned into a 15-year adventure."
And the group keeps growing.
Platte says the DC Cowboys recruit "freshmen" every November when they hold auditions for new dancers.
"We look for dance ability, appearance and the ability to pick up quickly," he says. Naturally, interest has only grown since America's Got Talent, leading to a "really successful freshman class."
Today, the DC Cowboys are nearly twice the size as when they began, now counting 23 dancers. That growth allows them to be in two places at once, despite the limits of physics. This summer, while one group of Cowboys performs for Denver's Pride festival, another will be hundreds of miles away, performing for a Pride festival in Minneapolis.
"That never happens," says Platte. "We usually have to pick and choose, but with such a large group and increased demand for us, it's like, wow, we can actually do both at the same time."
And, of course, the DC Cowboys will grace the street and stage during this year's Pride Parade and Festival, where they've reigned as one of the most popular performance groups. With a new slate of dancers, including brand-new members, Platte says they plan to bring out their signature fusion of high-energy country and Broadway.
"It's a little bit of everything for everybody out there."
The DC Cowboys will perform at the Capital Pride Festival Mainstage on Sunday, June 14. For a lineup of all Mainstage and Arts Corner performers, please click here.