Our fair city is not known as a musical powerhouse, but at least two local bands are campaigning to stir up the electorate — and wouldn't you know the chosen platform is power pop?
Yes, Virginia, it's true. Technically, The Dance Party comes from just across the border — Prince George's County, Md. But close enough. This quintet churns out party rock that just might inspire a fan of the Cars or Rick Springfield or even Wang Chung — party rock from a generation ago — ready to shake it up, have fun tonight.
If that makes The Dance Party's music sound cheesy, well — that's because it is. "Gotta get up, get up, get up — It's what she lives for, kissing on the dance floor," lead singer Mick Coogan sings on new single "Sasha Don't Sleep," about a girl who lives to dance. "Sasha, oh you've got your eye on me. Sasha, oh I know you don't sleep."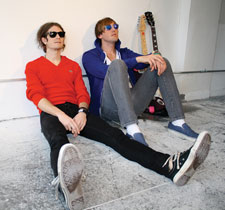 Rock the Vote: D.C.'s Dance Party
But cheesy can be fun — as long as there's no pretense of anything greater. And The Dance Party's only aim is to "dance and rock and drink and go nuts," Coogan says in a release announcing the band's new EP, Tigers, due out Tuesday, July 14. The set features only five tracks, and two of these appeared on the band's two-year-old self-released debut, Friction! Friction! Friction! That was released before the band built a serious buzz through shows at the 9:30 Club (they're slated to appear there again next Friday, July 10).
On new track "Vampires," Coogan shouts "It's gonna be alright" at the end of each round of the chorus. Coogan's voice can be a bit much to take — he can scream and wail like Def Leppard's Joe Elliott, a main influence. The music can be a bit much — the choruses are big, but not generally deep; the melodies and harmonies thick though not necessarily strong. And working with mixing engineer Andros Rodriguez, the band uses distortion and recording trickery to make its sound slightly richer, more developed than it is.
Still, one listen to Tigers — slated for release on July 7 (but you can stream a preview at www.myspace.com/thedanceparty) — and you don't doubt that it lives up to its billing as "one of the wildest bands in the city," with an "explosive" live show. Mark your calendar.
THE DANCE PARTY
Tigers
At the 9:30 Club
Friday, July 10
HOTSPUR
You Should Know Better By Now
$14.49





Hotspur, meanwhile, is a more serious band — one that's out to do more than just inspire you to drink and dance, and have fun. More serious — but not too serious. After all, the official release announcing the quintet's new album, its second, You Should Know Better By Now, notes that Hotspur's music is "catchy as hell."
In fact, the band's pop-rock is so catchy, the melodies and hooks so ingratiating, the vocals of Joe Mach and the synths of Dave Trichter so pristinely clear and crisp, you can't help but be a little suspicious. This is a D.C. band, after all. How do we know this band's four members aren't lobbyists or researchers seeing if they can game the pop system?
Well, if this is a game, the band wins. Hotspur deserves more than its current regular rotation in MTV programming, or performances at area Hot Topic stores. You Should Know Better By Now is an immediately captivating album, one that draws you in on first listen. Because of the prominence of keyboards in an otherwise guitar-driven rock band — not to mention the band's sonic heavy-heartedness — you can't help but hear a trace of Keane, or even Coldplay. But a greater influence is Matchbox Twenty. Hotspur is actually better, since Mach doesn't have Rob Thomas' frayed vocals and overwrought delivery.
There's nothing staid about Hotspur's music. The album launches with a suitably frantic song called "Hypochondria," which starts out sweet and slow, before panic sets in. It may sound like there's a problem, but there's nothing wrong here. Absolutely nothing wrong at all.