Did you know Sandra Bernhard is a "classically trained singer?" We didn't either, but it says so right there in the press release for her new album, Whatever It Takes: "As an artist with a natural ability to surprise and challenge her audience, it is no shock that Bernhard, a classically trained singer, would gravitate towards such a sound and concept."
The surprise isn't that she can sing. The 54-year-old comedian, known for her biting commentary of celebrities and politicians, has always sung as part of her one-woman shows, and the music helps make her shows special. Not many other comedians have the chutzpah to incorporate singing into their acts, much less the talent to do so.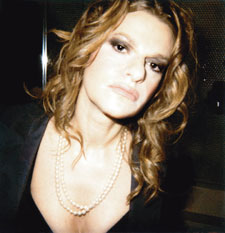 Vocal discord: Bernhard
(Photo by Jasmine Hirst)
Last fall in D.C. the bisexual artist launched an international tour celebrating the 20th anniversary of her award-winning Without You I'm Nothing. The show proved that her singing voice was actually in better condition than it was two decades ago. And on Whatever It Takes, she does sound good, as good as ever.
But a classically trained singer? She's never sounded that good – and nobody expects her to.
So the surprise and certainly the challenge with Whatever It Takes is that, unlike all of her past albums, which combined comedy and music just as she does live, her new set is humorless. Bernhard doesn't crack one joke, or talk. She's trying for a more traditional approach, singing for beautiful melody, not sarcastic effect. The focus is strictly on presenting herself as a serious singer-songwriter – a world-music singer-songwriter at that.
Sandra Bernhard, erstwhile punk-rocker, a world music sensation? It's as far-fetched as it sounds.

Whatever It Takes opens with the sound of African chants from Rwandan singer-songwriter Jean Paul Samputu. But after a couple bars the chants sink a bit jarringly as "All Around" becomes a basic pop-rock song, with Chrissie Hynde of the Pretenders joining to sing a song about freedom and hope, a response to the end of the Bush-era and the rise of Obama. "All around, we just want to be free again," they sing. "Lift down the old chains that would keep you bound." Samputu can be heard in the chorus singing with Hynde and Bernhard, and then he offers a solo chant in the bridge. And then the song's perfectly pleasant rock heart, which could be a hit on its own, fades away as the introductory chants return to carry out the song. The merger of rock and Afro-pop here is not subtle or sophisticated.
Not every one of the album's 10 songs tries for such a politically minded cultural merger. And in fact, more notable is the unspoken merger between standard pop-rock and rich string instrumentation. Whatever It Takes is characterized throughout by a sophisticated, organic sound, a real '60s vibe, from Woodstock-style rock to Brill Building Sound pop. Album closer "A Woman In Love" is more of an American pop standard than anything else – and it's more winning than most anything else here.
Too much of the album drowns in self-congratulatory earnestness – and none of this world-music dabbling, chiefly from Africa, India and the Middle East, is as novel as Bernhard seems to think it is. "A New World" opens with a sitar riff straight out of the John Lennon playbook. Can you believe it's been nearly 44 years since the Beatles' "Norwegian Wood"? Well, it has. "The Sun Comes Out" recalls Paul Simon's work on Rhythm of the Saints. Even that is almost 20 years old.
SANDRA BERNHARD
Whatever It Takes
Mi5/EMI
$13.98


That's not to say merging today's pop sounds the world over can't be done. But Bernhard and her co-writing producer Ted Mason, a former member of the '80s Brit-pop band Modern English ("I Melt with You") and the man responsible for her taking on this project, have not met that challenge here.
One departure from the multi-culti vibe is Bernhard's return to the disco, after her success there 18 years ago with a cover of Sylvester's dance classic "You Make Me Feel (Mighty Real)." But aside from dazzling bass-guitar work, "Can You See" is a dance-rocker as bland as possible. It chugs along with Bernhard singing softly, before petering out after just two minutes – and before Bernhard ever shouts or frees herself, as you expect her to do. What's the point of a dance song if it only lasts two minutes and doesn't feature a release?
All told, there's little release – or relief – anywhere on Whatever It Takes. Whatever else you may say about it, Bernhard's singing voice is not as strong or as compelling as her stage presence or her comedic charisma. Both are sorely missing her.