In his book, 50 Fabulous Gay-Friendly Places to Live, Gregory Kompes included St. Louis among the cities that made the cut. If you think that might mean the city is also a good place for gays to visit, you'd be right.
Commonly known as the "Gateway City," St. Louis has a rich history as the launching point for the westward expansion of the United States. Today it is a vibrant, urban metropolis that celebrates diversity and offers visitors a wealth of attractions.
Stay
One of St. Louis' first boutique properties, Moonrise Hotel (www.moonrisehotel.com) "blends cool modern design and quirky sophistication" to create accommodations that are equal parts comforting and welcoming. The hotel features 125 well-appointed guestrooms, complete with moon-themed art. Its rooftop bar and onsite restaurant, Eclipse, are popular with the guests and locals. Although the new kid on the block, Moonrise fits perfectly into "The Loop," a vibrant and funky six-block shopping and entertainment district.
For travelers who prefer a larger property, the downtown Sheraton St. Louis City Center Hotel & Suites (www.Sheraton.com/StLouis) is a "Travel Alternatives Group Approved" gay-friendly property.
Eat
While St. Louis — home to Anheuser-Busch and a crop of microbreweries — is known as a drinking town, it also has a number of quality dining options. The Triumph Grill (www.triumphgrill.com) is a restaurant that takes casual dining very seriously. The tempura-battered asparagus spears are a great starter. The Angus burger topped with Gruyère, caramelized onion and roasted-garlic mayonnaise on toasted brioche hits the spot, especially with a cold beer. The restaurant's decor is motorcycle-themed, which is no surprise given it's connected to the Moto Museum (www.themotomuseum.com), housing rare and vintage motorcycles collected from around the world.
For a sweet treat, head to The Fountain on Locust (www.fountainonlocust.com), a modern-day malt shop. The Fountain is located along St. Louis' Historic Automotive Row. Nearby is St. Louis' Grand Center (www.grandcenter.org) arts and entertainment district.
In the city's Central West End neighborhood, where playwright Tennessee Williams once lived and where he based his play The Glass Menagerie, is Herbie's Vintage 72 (www.herbies.com) bistro, featuring such classics as beef Wellington and New York strip.
Do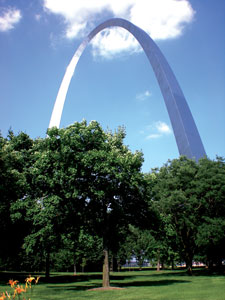 Saint Louis, Missouri
(Photo by Troy Petenbrink)
Officially named the Jefferson National Expansion Memorial, the Gateway Arch (www.nps.gov/jeff) is a 630-foot, stainless steel tribute to the spirit of the Western pioneers. A unique tram system takes visitors to the top for spectacular views of St. Louis and the Mississippi River. At the base of the arch is the Museum of Westward Expansion (www.nps.gov/archive/jeff/expansion_museum.html), which preserves artifacts from the days of Lewis and Clark.
Just a few blocks away is one of St. Louis' newest attractions, Citygarden (www.citygardenstl.org). Open 365 days a year, the lushly landscaped urban park is home to 24 pieces of sculpture by internationally renowned artists, including Keith Haring. There is also the 1,300-acre Forest Park, offering about 500 acres more than New York's Central Park. Among the cultural attractions in the park are the Saint Louis Zoo (www.stlzoo.org), Saint Louis Art Museum (www.slam.org), Saint Louis Science Center (www.slsc.org), Missouri History Museum (www.mohistory.org) and The Muny outdoor theater (www.muny.org).
In midtown St. Louis is another collection of must-do museums. The Contemporary Art Museum St. Louis (www.camstl.org) features local, national and international artists, established and otherwise, from diverse backgrounds, working in all types of media. The adjacent Pulitzer Foundation for the Arts (www.pulitzerarts.org), fosters a deeper understanding and appreciation of art in the context of architecture. A few blocks away — but a world apart from its sophisticated peers — is the City Museum (www.citymuseum.org), an eclectic mix of playground, funhouse, surrealistic pavilion and architectural marvel made of unique, found objects.
Play
Gay nightlife in St. Louis is integrated throughout the community. There is a cluster of gay bars and clubs along a few blocks of Manchester Avenue in the city's "The Grove" neighborhood. Among the fun finds are Just John (www.justjohnsclub.com), Attitudes (www.attitudesnightclub.com) and Novak's Bar & Grill (www.novaksbar.com). In the Central West End is The Loading Zone (www.myspace.com/thezonestl), a popular gay video bar. And for late-night dancing, The Complex (www.complexnightclub.com), in the midtown Gate District neighborhood, offers top DJs and multiple dance floors.
The phrase, "This is the oldest [fill in the blank] west of the Mississippi," is commonly heard when locals speak of various establishments in St. Louis. So no visit would be complete without a visit to Clementine's (2001 Menard Street; 314-664-7869) and its adjoining Oh My Darlin' Café, with the distinction of being the oldest gay bar west of the Mississippi. Its afternoon "beer busts" on Saturday and Sunday are especially popular.
For more information about St. Louis, visit www.ExploreStLouis.com.