At the end of the month, Transgender Health Empowerment (T.H.E.) will be closing the doors of the Tyra Hunter Drop-In Center, where for the past two years homeless GLBT people found food, showers and a place to sleep thanks to funding from the local government.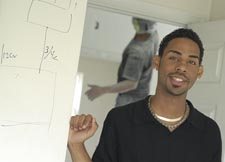 Brian Watson
(Photo by Ward Morrison)
"I am angry," says Brian Watson, director of programs at T.H.E. "I work with these clients every day. My office is in the drop-in center, so I see the people that we won't be able to serve anymore."
The closing is a result of the city's budget cuts for 2010, which for T.H.E. means going from a $150,000 allocation in the 2009 budget to zero in 2010.
Watson says it was because there were so many GLBT homeless youths at the Tyra Hunter Drop-In Center that he decided to launch the transitional home known as the Wanda Alston House. And while that project hasn't been directly impacted by the city's budget cuts, there's always room for improvement.
To celebrate the one-year anniversary of the Wanda Alston House welcoming tenants, T.H.E. is hosting a fundraiser on Wednesday, Sept. 9, from 6:30-8:30 p.m., at the True Reformer Building, 1200 U St. NW. The suggested donation is $50.
Watson says he's hoping T.H.E. will raise about $20,000 to help buy a van to transport the youth who live at the house.
Also taking a hit in the city's budget cuts is The Center, the local GLBT community center, which in years past had received $150,000 for its Crystal Meth Working Group. Earlier this year, The Center was expecting $500,000 from the city to find a new home. Both city sums have evaporated.
"I'm particularly shocked, because if you look at comparable cities in the U.S., in terms of LGBT population, we're right up there with New York, L.A., Chicago and San Francisco," says David Mariner, executive director of The Center. "Every single one of those cities has a thriving community center with a budget ranging from $2 million to over $40 million….
"If you look at our AIDS data and our hate-crimes data, I feel very comfortable saying it's among the least safe [cities] in the country. So for the local government to not offer any support for us, when other cities are really stepping up, it's a disappointment."
To help keep things afloat, Mariner adds The Center is hosting its Fall Reception and fundraiser on Sept. 10, at the Artists Inn Residence, 1824 R St. NW, with a suggested donation of $50.
"We do a lot of events that are specific to programs of The Center," Mariner says, "but this is the one event that we do that benefits the general operating funds."
Like The Center and T.H.E., the Mautner Project is also taking a hit.
"We were anticipating having $200,000 — 20 percent of our budget," says Leslie Calman, executive director of the lesbian health organization, of the hit they're suffering in the D.C. budget.
"The money as allocated was actually to do work on cancer," she says. "The most immediate repercussion was that a staff member I was planning to hire I've now had to put on hold."
The Mautner Project has partnered with Lace, at 2214 Rhode Island Ave. NE, a club and restaurant that will be donating a portion of its bar proceeds from every Saturday in September to the Mautner Project.
In addition to an online raffle seeking donations, Calman says Mautner Project board members are also working with the Town to organize a fundraiser for sometime this fall.
For more information about Transgender Health Empowerment, visit www.theincdc.org; for The Center, visit www.thedccenter.org; for Mautner Project, visit www.mautnerproject.org.