Three statewide offices and all 100 seats of the Virginia House of Delegates are up for grabs come Nov. 3, in what political activists are describing as a significant election for GLBT people living in the state.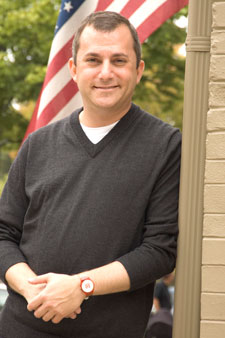 Adam Ebbin
"Anytime you've got three people running statewide — it only happens every 40 years — we have to be invested and involved in those races," says Jay Fisette, the Democratic vice-chairman of the Arlington County Board, who is gay and seeking re-election this year.
"The governor, lieutenant governor and attorney general — you can point to enormous impact that each of those offices are going to have."
The choice for governor between state Sen. Creigh Deeds (D) and former Virginia Attorney General Bob McDonnell (R), might have been made easier for some voters since the Washington Post posted McDonnell's master's thesis online on Aug. 30.
The 93-page document describing how the Republican Party can protect American Families was written in 1989 when McDonnell was 34 and attending televangelist Pat Robertson's Regent University in Virginia Beach, Va., working toward a law degree.
"Man's basic nature is inclined towards evil, and when the exercise of liberty takes the shape of pornography, drug abuse, or homosexuality, the government must restrain, punish, and deter," he suggests in the paper.
"It was written by not a child, but an adult," Fisette says. "He was not 18. He was 34, which qualifies you to be an adult."
Alexandra Beninda, the transgender woman who serves as vice president of the board of directors of the Virginia Partisans, a GLBT Democratic group, says the three statewide races are the obvious focus this year.
"We need to prevent the whole trio there between McDonnell, Bill Bolling (R) and Ken Cuccinelli (R)," she says. "All three of them are very far-right-wing candidates. We need to prevent the ultimate disaster of them getting in."
Both Beninda and Fisette admit, however, that in Deeds, GBLT voters won't necessarily find an advocate either.
"Deeds is a moderate Democrat with a strong commitment to overall fairness and equality," Fisette says. "I've gotten to know him quite well and I know that he understands equality and understands fairness and has moved on all of our issues to a place of greater understanding. So when issues come up, he is somebody we will be able to work with. Whereas McDonnell, really, his thesis truly is a blueprint for extremism."
But Christian Berle, director of the national chapter of the Log Cabin Republicans, who works out of the D.C. chapter's office, says it's important to look at McDonnell's current campaign and not focus on the thesis, written 20 years ago.
"He has publicly talked about his opposition to discrimination based upon sexual orientation. It is obviously progressed from where he was in 1989 when he wrote his thesis and he has consistently evolved as a legislator and attorney general," Berle says. "We take him at his word and see that he's evolving in his support for non-discrimination laws."
At the local level, Beninda says all eyes are on the delegate-seat race between John Bell (D) and Robert Marshall (R), the author of the Marshall-Newman Amendment, which bans recognition of any legal status between couples of the same gender. Marshall is currently serving his seventh term.
Del. Adam Ebbin (D), Virginia's only openly gay delegate, who is seeking re-election unopposed representing the state's 49th District in Northern Virginia, emphasizes the importance of voting Marshall out of office.
"This is our chance to get rid of the biggest homophobe still standing in the House," he says.
"We will be getting rid of not just a vote against us, but a real instigator of some of the worst attempts to de-humanize our community. And we're replacing him with Bell, a real supporter who we can count on to vote with us and be a real friend."
Berle says voters should be aware of Danny Smith (R), who is gay and running for the state's 38th District, also in Northern Virginia.
"He's a progressive and forward-thinking candidate. He supports marriage equality and employment non-discrimination, but he's also fiscally conservative. He's a candidate who largely lines up with the Log Cabin Republicans as an organization."
Fisette says voters should also be aware of redistricting, which will occur in Virginia in 2010, during the future governor's term. The last redistricting was in 2000.
"You redraw the boundaries for all the congressional districts, for all the legislative districts at the state level," he cautions. "The last time they were drawn was the first time that Republicans in Virginia had taken control.
"They had the governor and both Houses. The next election, the balance in the House of Delegates went from 49 Democrats to 34. You had a huge shift, because they moved boundaries in a way that packed all the Democrats into one and gave [Republicans] advantages in numerous other districts that had not existed in the past."
With all the seats in the House of Delegates up for election, Beninda says Democrats have a chance at taking the majority. The party is currently six seats short of accomplishing that feat.
"Every GLBT bill in recent years has been assigned by the Republican Party to a committee, which is purposely assigned as a kind of a 'deaf committee' there, because they know it's not going to anywhere," she says. "And so every GLBT bill just [sits] in each committee.
"When the Democrats took control of the State Senate two years ago, what that did for us is that they were basically no longer able to pass any negative legislation," she says, adding as an example attempts to get rid of gay-straight alliances in public schools.
"We can't guarantee that if Democrats took control of the House that they can get everything passed, but basically what it would most likely to do is allow these bills to get out of committee and get out on the House floor so they can have a better discussion of them."
Berle says a Democratic majority does not necessarily mean advances in GLBT equality in Virginia.
"Any reform to advance gay rights, whether it's in a state like Virginia, where Republicans hold a strong control on the House of Delegates and Democrats have a majority in the State Senate, it is something where you need to reach out and have dialogue on both sides of the aisle," he says. "We believe that it's important for any substantive reform, to work both sides of the aisle."
The voter-registration deadline for the Nov. 3 Virginia general election is Oct. 5. For more information, visit www.sbe.virginia.gov.