Polyamory. Threeples. Triads. Whatever the terminology, there's a chance you've come across three people sharing a relationship both domestic and romantic.
With the GLBT community less confined by convention, it may even be more common among gay trendsetters – though not a monopoly, of course. Try renting 1982's Summer Lovers for the romanticized, hetero take on tripling. But don't be fooled into thinking a triad is nothing but a halcyon holiday in the Aegean.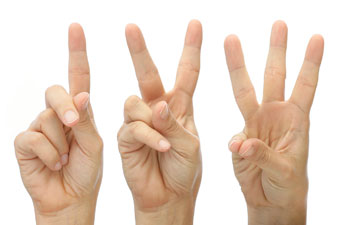 "Just coordinating our calendars is a big part of the communication," says Michael, who joined an established Silver Spring couple, Brian and Kent, in 2006. He says the three of them will soon be meeting, Palm Pilots at the ready, to carve out schedules for 2010.
It's not exactly the stuff of erotic fairytales. That communication, however, even when just a matter of scheduling, is crucial to any successful relationship. It's more so in a triad.
"I've got a relationship with Ken, and a relationship with Michael," explains Brian. "They have one between each other. Then there's our collective relationship. It's less complicated than it sounds."
Still, he warns, complications are always lurking.
"For people lacking in confidence or having trust issues, this would be really problematic," he says. "Their problems wouldn't just double, they'd quadruple."
Michael Radkowsky, a licensed psychologist who sees many gay clients at his D.C. office, says there are plenty of issues beyond communication that can enter the equation in a three-party relationship. Not the least of which may be that the relationship is built upon a shaky foundation.
"If they're having a lousy sex life or are emotionally bored, they may seek a third to liven things up," says Radkowsky. "They may be going for an outside fix, rather than solving solvable problems. And they may still be just as bored with each other."
He warns further that a relationship lacking societal supports can also leave those involved dealing with feelings of shame. For Brian, Kent and Michael, preferring not to include their last names may hint at that sort of shame. It's something they insist is not the case.
"I'm not overly concerned about societal acceptance," Brian says bluntly, conceding that the world is designed for singles or couples, rarely triples — save for those airborne times when he always gets the aisle, Michael the middle, and Kent the window. Michael has adult children who all three say are supportive, as well as some other immediate friends and family. When it comes to outing themselves as a triad, they play it by ear.
"People definitely come with questions," says Kent. "Not generally because they want this relationship, but they want to understand how it works. People are very curious about it and they know that we're willing to talk. I show people this is a healthy, normal relationship. Nothing kinky. It's just a different relationship."
Michael Payne, a mental-health therapist in Alexandria, notes some of the same cautions as Radkowsky, adding that it would take a special sort of person to be in a healthy three-way relationship, particularly if that person is joining an existing relationship, which would likely be the case.
"There are a lot of things in a triad where there can be opportunities for imbalance," he says. "You've got to be really secure in your relationship and in who you are. For the person entering the 'diad,' they're not sharing the same history. It would take a pretty secure person."
Michael, as the third to join Brian and Kent, says he feels entirely welcome — not that it didn't take some work. All three explain that a critical element is keeping each other up to date. Even a conversation as mundane as what's for dinner can take on unexpected gravity if it's a conversation that two of the three neglected to share.
Still, with all the potential pitfalls, Brian, Kent and Michael all say that their three-way relationship – one they were all open to but not looking for – is working out wonderfully.
"It's easier than I thought it would be," says Michael. "There's a real give and take between the three of us. I never imagined being in this type of relationship. It's wonderful. I'm amazed by it."
He adds that some gay people may be threatened by their unorthodox arrangement, feeling it furthers an argument that gay men don't respect marriage or are sexually deviant.
Conversely, Kent adds that he's actually somewhat surprised by how little blowback they've gotten for their relationship.
"We've not really run into a lot of problems because of it," he says. "Booking a king-sized bed for the three of us, most hotels don't bat an eye. Maybe they just think we're cheap."