Whitman-Walker Clinic announced last week that the 23rd annual AIDS Walk Washington fundraiser raised more than $800,000 for the clinic.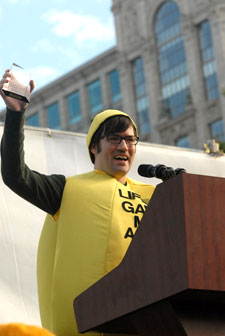 Shawn Decker
(Photo by Ward Morrison)
WWC's Executive Director Don Blanchon released a statement Oct. 7 thanking participants in the Oct. 3 run and walk downtown.
"After the city released its report this past spring showing that 3 percent of all adults in D.C. are confirmed HIV-positive and an additional 3-5 percent are estimated to be infected, many people saw participation in the walk as a concrete step they could take to help.
"We are grateful for their support and hope they will continue to be active in the fight against HIV/AIDS in D.C."
The money, collected from corporate sponsors and individuals, will be used for WWC's HIV/AIDS services. Those services include primary medical care, legal services, and mental health and addiction treatment services.
This year, WWC awarded Charlottesville's Shawn Decker, a hemophiliac who was infected with HIV when he was 11, with the clinic's Courage Award.
Decker and his wife, Gwenn Barringer, an HIV-educator who is HIV-negative, often use humor when speaking about sexual health around the country. He attended the event dressed as a lemon, teasing that "Life gave me AIDS," but "I made lemonAIDS."