The 16th Annual Art for Life art auction and exhibit benefiting Whitman-Walker Clinic marks the fifth time local gay artist Bill Mould is participating in the show.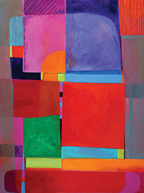 Work by JoAnn Clayton
"I like to use ceramic and kind of fool the eye," says Mould, one of more than 100 artists featured this year.
"A lot of my pieces look like leather or wood, or parchment, and yet they're all ceramic," says Mould. Keeping with that theme, Mould's featured piece is titled "Vulcan's Cup" and appears to have been made from metal, even though it's ceramic. It's valued at $250.
"I have lost some people to AIDS and I guess this is kind of a service to them," Mould says of his participation in the event.
JoAnn Clayton, an abstract painter who has been featured in Art for Life over the past three years, echoes Mould's sentiments.
"I do it because Whitman-Walker does such a wonderful job and I lost two close friends to AIDS before people began to understand AIDS," she says. "In the first wave, the hospitals treated them so badly. I just can't describe to you how horrible it was. And finally when we found Whitman-Walker, they knew the newest meds, they cared, and they talked to you."
Clayton's featured auction selection, an abstract painting entitled "We're Back in Kansas!" is valued at $800.
"I paint with many layers of acrylic paint," she says. "And so you sort of get a great level of vibrancy, a depth, a richness of paint."'
Art for Life is Friday, Nov. 13, at 6:30 p.m. at the Carnegie Institute of Washington, 1530 P St. NW. Tickets start at $80. Call 202-797-3543 or visit 'wwc.org/artforlife/' where you can also view images from this year's entire catalog of artwork.