When it comes to the word precious and movies, it's tough not to think of a kidnapped girl trapped in a hole trying to lure a small dog over the edge. "Here Precious," she calls out in The Silence of the Lambs, a movie still terrifying today. While vastly different films, Precious is just as frightening, and the title character suffers just as much as that poor, kidnapped woman. In fact, it's arguably worse to watch Precious's plight, for she's a captive of not just one lunatic, but her family, a city's bureaucracy, and her own, crippling self-doubt.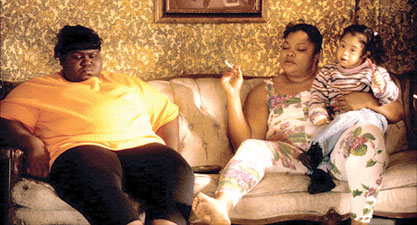 Precious
The full title of the film is Precious: Based on the Novel Push by Sapphire, but the phrase "Presented by Oprah Winfrey and Tyler Perry" receives equal billing in the advertising. If this seems like name-dropping, after seeing the film, you'll understand why they want to put their stamp of approval on it. It's one of those rare films not weighed down by its enormous buzz. The viewer's only dilemma is that it's so tough to watch, you can only hope that it's worth the tears.
It is.
Precious (Gabourey Sidibe) is anything but precious to those around her. Life is an existence in the third circle of hell: mother Mary (Mo'Nique) throws plates and strikes with pans, deadbeat dad is the father to his daughter's children, and extreme obesity ensures that few look beyond the weight to the struggling teenager inside. Illiterate, pregnant and expecting her second child by her father, Precious is trapped in her own metaphorical hole with seemingly no hope of rescue.
It's not until Precious finds an outlet at an alternative school that she starts to value herself and her unborn child. It sounds like Dangerous Minds as seen from the other side of the teacher's desk, but it's better than that. Much better.
Director Lee Daniels deserves commendation for telling the story of Precious in a way that conveys horror, but avoids gratuitous wallowing. The most gut-turning moments are only introduced briefly before Precious is allowed to escape in her mind in a coping mechanism that overcomes the horror at hand. The audience can take comfort in the fade-outs filled with fantasy and glamour while comprehending the reality of Precious's situation. However, that reprieve is short-lived, and the return to the present moment is starker for its juxtaposition. Special effects like talking photos and over-editing sometimes stand out too much from the gritty reality of Harlem, but it's a small quibble in an otherwise strong creation.
For those who like to see all of the Oscar-nominated films before the ceremony would be hedging their bets by seeing Precious now. Mo'Nique's performance is riveting. Mary is vile; the challenge is not to make her likable or relatable, but simply to make her seem human. Her actions are often so inhuman, Mo'Nique's ability to create any sort of character out of this part is a testament to her performance. She's most frightening when quiet, the rage almost visible as a moving force beneath her skin.
But to not equally laud Sidibe's performance as Precious would be an insult. It's the moments of fantasy that Precious allows herself to indulge in – walking the red carpet in a gown and speaking flawlessly – that reveal Sidibe's talent. Starkly different personas at the beginning of the film, the way Sidibe slowly brings the two closer together is a fascinating journey to watch.
PRECIOUS




1/2
Starring
Gabourey Sidibe,
Mo'Nique,
Mariah Carey
Rated R
110 Minutes
Area Theaters
Even Mariah Carey, who will never – and should never – live down the disaster of Glitter, pulls a Susan Sarandon move from Dead Man Walking and plays a social worker without the benefits of make-up and styling. It's a raw look at someone known for glamour and adds to the grimy story being told.
One of the most interesting educational revelations that Precious experiences is recognizing that one of her few guardian angels is a lesbian. By verbalizing her thought process of acceptance, she demonstrates her ability to finally process information for herself and draw conclusions. It's not only a huge growth moment for the character, but a significant moment in film as well.
Precious is clearly designed to tug at the heartstrings and play with emotions. It feels manipulative at times, but works nevertheless. In order to succeed, Precious must open herself up to hope and trust that the outcome will be a better life. The entire film has this feeling – that the cast, director and the story itself are taking a risk and just hoping that they will be received with open arms. It may be tough to get your arms around Precious, but it's worth the effort.