You may know Dylan Davis, Cobalt bartender and promoter. Or Dylan Davis, Universal Gear model. This weekend, you can see another side to the popular public figure. Dylan Davis, artist.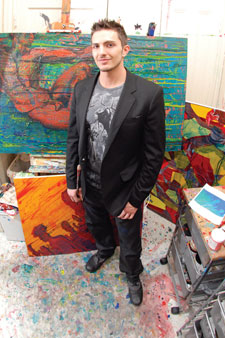 Dylan Davis
(Photo by Todd Franson)
"When I'm painting, I paint in all different directions," Davis says, offering a literal meaning to the title of his first self-organized, one-weekend-only art show, "On The Flip Side." Occupying vacant space on 14th St. NW above the restaurant Posto, the exhibit features what Davis calls "the drips."
"I'll paint a figure, for example, and then I'll turn it on its side and let the paint drip down. And I'll let that dry and then go back and work the image off of the drips. I'm letting the paint dictate the image just as much as the brush."
The result is a colorful, intriguing image, a mix of classical influences – particularly Michelangelo – and modern. And it's all meant to represent confusing modern times, when, says Davis, "things are going in different directions than we're used to."
The roughly two dozen works on display, all created over the past several months, range in price from $400 to $5,000. (Signed prints of the originals will be available for significantly less cost.)
The 26-year-old, who grew up in Colorado, earned a fine arts degree from Ringling College of Art and Design in Florida. He's certainly established himself since making D.C. home a couple years ago. For his weekend-long show, he's lined up sponsorships from employers Cobalt and Universal Gear as well as other businesses, including Vida Fitness and Bang & Olufsen.
"I love the idea of a renaissance man," says Davis. "And I aspire to be a modern-day renaissance man." —Doug Rule
Dylan Davis's "On The Flip Side" exhibits every night this weekend through Sunday, Dec. 6, at 1515 14th St. NW. An open-bar grand opening is set for tonight, Dec. 3, from 6:30 to 11 p.m. Saturday's 6:30 to 11 p.m. event will feature music by DJ Obey. Visit dylanfinearts.com.