"It's hard to make a mandolin sound sad. You can play it in a minor key, but it's [still] got a sprightly tone," says Catie Curtis. As a result, Curtis's new bluegrass record is "a really fun, kind of light, spirited record."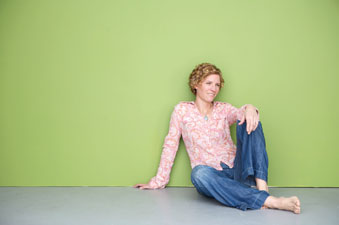 Catie Curtis
(Photo by Tony Baker)
Even before her strings-based set, the New England folk-rocker wasn't known for sadness or sorrow. In fact, in two decades of recording, Curtis stands out for her optimistic outlook on the ways of the world.
"My philosophy is, life is not that pretty," she says. "We need the arts to remind us about a deeper beauty amidst all the ugliness and plasticity."
The Boston-based Curtis performed at a couple benefit concerts in D.C. this year, with HRC's Inaugural Ball naturally a highlight. "To be there that weekend and celebrate President Obama's inauguration, but also to stand onstage with Cyndi Lauper and sing with her and meet Rufus Wainwright — it was a really special event."
Benefit concerts are the singer's way of giving back to the community. "I'm a folk singer, so I couldn't be writing checks for $10,000 [for organizations], but it's neat that I can play a concert and raise that." She did just that last month for the Maine nonprofit Safe Passages, which works to educate children in Guatemala. Curtis and her wife's two adopted children, aged 5 and 7, were born in that country.
Curtis grew up in rural Maine but was bitten by the folk bug after catching a small-venue performance of a pre-"Luka" Suzanne Vega. "Then I started following all these other folkies in the New England folk music scene. It just became this world that I love."
As for the bluegrass of Hello, Stranger, Curtis says, "It was like trying on a costume, but that's not really who I am." For her show at The Birchmere, Curtis expects to jam at the end with opening act Susan Werner plus the two supporting bands, comprising a fiddle player, mandolin/guitarist and cellist.
Says Curtis: "It's going to be quite a string orchestra."
Catie Curtis performs Friday, Dec. 11, at 7:30 p.m., at The Birchmere, 3701 Mt. Vernon Ave., Alexandria. Tickets are $27.50. Call 703-549-7500 or visit birchmere.com.