"I need to stop saying Halo. It's MOVA!" exclaims Babak Movahedi, after repeatedly referring to his own lounge by its pre-2010 name. "It will take some time."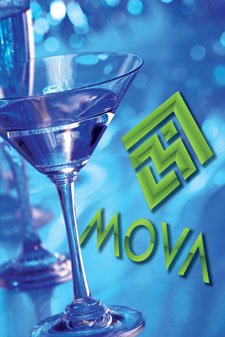 It will also take some time before additional changes are implemented – a full year, according to Movahedi. He was a financial partner in the original Halo, launched in 2004, and became its sole owner and operator in 2007. By 2011, a third MOVA in Fort Lauderdale will join the original in D.C. and another in Miami, where Movahedi now resides. Movahedi also plans to open in another three locations – as yet undetermined – in as many years.
"Before we move any further, it was my decision that we need to create a brand and a name that belongs to us so people don't associate us with other Halos," Movahedi explains. Indeed, a Google search turns up a number of Halo bars and lounges around the country, as well as one in Canada.
He insists there was no outside pressure to change.
"In fact, they had given us permission to use Halo in D.C.," Movahedi says of the trademark holder, Halo Bar in St. Louis. "It was my decision that we cannot expand with somebody else holding the trademark. And it being 2010 and starting of a new decade, the timing was just right."
Changes at MOVA include a decrease in rail-drink prices, now featuring premium brands (Finlandia, Herradura, Bacardi, Dewars); a green outlook — literally, in fact, as the color will replace Halo's warm orange; and a more philanthropically minded, community-oriented approach to business. On this last item, Movahedi says MOVA plans to work with and raise money for the city's community organizations. "I hope we become known not just as a bar, but as a community center of sorts where people can feel comfortable having their meetings."
MOVA, which is derived from Movahedi's name and pronounced "moh-va," is simply a new concept, not a new bar. "It's still under the same ownership, same management and same team [that's been running it the past year]," Movahedi stresses, and will remain "an upscale lounge" where straight friends and family are comfortable mingling with gay regulars.
"Since my name is associated with it," he says, "you can be sure that our brand is going to be stronger, and our product is going to be even better than it was before." —Doug Rule
MOVA is located at 1435 P St. NW. Call 202-797-9730.