The year 2009 was pretty ho-hum as far as music went, especially in the mainstream. One overrated artist after another released albums that left us wanting. And the rest struggled to be heard amid the din of our ADHD-addled media culture.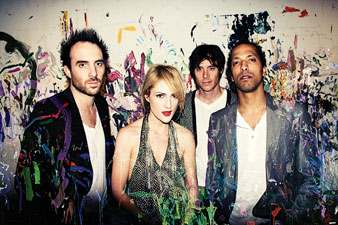 Turns of phrase: Haines with Metric
And to think one of the very best overlooked gems came from a band named after science. The Canadian band Metric coulda woulda shoulda been a bigger sensation — if only the musical hype machine was as precise as this electronic-rock band's namesake measurement system, not to mention its sound. The band's album Fantasies opens with a clanging rhythm, as lead singer Emily Haines sings about her anxiety. "Help I'm alive, my heart is beating like a hammer," she sings, as dazzling percussion pounds out her racing heartbeat.
I didn't discover Metric until months after the release of Fantasies in the spring, and well after the band's magical concert at the 9:30 Club in June. In fact, I only got hip to the band courtesy of NPR's broadcast of that concert through its All Songs Considered Podcast. In concert, Haines heaps praise on the 9:30 Club, and it's clear the staff and the crowd are giving the quartet a mutual admiration event. And why wouldn't they? The band sounded just like a fantasy on the NPR podcast – they'd win over anyone who'd give them a chance, playing like that.
The band takes its time working through its songs, but they never sound languorous. Metric creates tight songs, like the best of punk and post-punk. But influence from electronica and club music inspires them to elongate the songs through subtle shifts and turns. On would-be anthem "Gold Guns Girls," a song about gambling, Haines asks, "Is it ever gonna be enough?" Over a relentlessly driving beat, she repeats the phrase over and over and over again without ever making her plea annoying, but also making the phrase wonderfully literal. Clearly, it'll never be enough. "More and more, more and more," she later chants. The mid-album track only lasts for four minutes, but it could go on like this for the rest of the set and no one would complain.
Haines woos you with her charming, regular-girl voice, and her turns of phrase, many of which are darker than you'd expect. "I'm not suicidal, I just can't get out of bed," she sings in "Satellite Minds." "I wanna leave but the world won't let me go," goes the lyrically fraught but musically carefree "Blindness."
METRIC
Fantasies
Metric Music International
$13.98





On the anti-love love song "Sick Muse," she curses Cupid while nevertheless vowing to write a harmony in C to match her lover's melody. "Everybody just wanna fall in love. Everybody just wanna play the lead."
With musical harmony as fantastical as this, Haines can play the lead with us any day.
Haines's lyrics capture the rather depressed times in which we live, but she's a sunny optimist compared to Polly Scattergood, a young British upstart who channels Kate Bush and Tori Amos, even a little Lily Allen as she tries to understand love — mostly, to rebound from broken love. Her self-titled debut release hits so hard – it's so heart-wrenching – it took me a few times before I warmed up to it. Scattergood's music is an acquired taste, you might say – but it seems more precise to call it a slow-burn. And burning is what Scattergood excels at.
"I am strong, I am not weak. I'm not in a place where I can talk to you," she sings on "I Am Strong," which finds her alternating between strength and weakness as she confronts a lover's transgression. On "Untitled 27," she effectively dies at song's end, as the music flatlines after she sings "It hurts to be here, I don't want to be here. Good night, my love."
POLLY SCATTERGOOD
Polly Scattergood
Mute
$14.98




Sure, it's a lot to take, but what keeps you engaged is the music. Scattergood plays guitar and piano in addition to singing, and she gets support from a dozen or so other musicians, playing strings and percussion, even the accordion, often brightening the lyrical mood, or at least, adding shades of complexity.
Album opener "I Hate The Way" is a ravishing seven-minute opus that finds the full band responding to Scattergood's lyrical pain. At the end, she sweetly hums "do-do-do-do-do-do-do-do-do," before the kicker: "My doctor said I've got to sing a happy tune." It's not happy of course, but despite it all, it might make you feel better.
Music as therapy: just what the doctor ordered to recover from an otherwise depressing year.