There are a litany of reasons to see both Richard II and Henry V, currently in rep at the Shakespeare Theatre. Among them, the joy of immersion in Shakespeare's deeply contemplative and poetic study of two of England's ancient kings, the chance to compare and contrast leadership in this juxtaposition of two very different men, and the unique theatrical experience of seeing each play rendered by a different director with one actor carrying both title roles. But perhaps the best reason of all to see these two plays is simply that, like all beautifully crafted Shakespearian tales, they each entertain uniquely with an irresistible mix of universal angst, the odd dose of schadenfreude and a gut-churning pathos.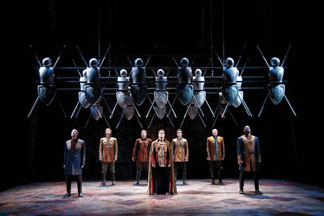 Of course, these particular pieces are relatively intricate and somber (though not totally devoid of humor) compared to others of the Bard, and Richard II is a particularly long evening. But with some slight mental preparation — perhaps in the order of one tenth that required for a Ring cycle — this will be a walk in the park. And although there are strengths and weaknesses to each production, overall the plays, seen together, are powerful, memorable, and provocative on myriad levels.
Less often staged than Henry V, Richard II focuses on the internal machinations of the king's court and in some ways is the more psychological of the two. Presented and paced by director Michael Kahn with blissful symmetry, balance and a throne that moves with a majestic inexorability, we join Richard as he is beginning to replace the old nobility of his court with his own sycophantic followers. In the midst of this ruthless process he banishes the Lord Bolingbroke who eventually returns with an army to wrest control of the kingdom from Richard. With few scenes of pure action, Shakespeare's portrait here is of a king in crisis revealed to have few, if any, inner resources. Crowned at a young age he has become a fragile, half-grown man, ill-equipped for adversity.
Interestingly, it is perhaps wrong to see Michael Hayden as Richard before seeing him as Henry. Apparent in both roles is Hayden's truly exceptional fluidity and exceedingly cognizant command of the language. But as Richard, Hayden's portrayal of this man-at-sea often feels too close to caricature, too much like the simpering yet easily enraged villain of a Bond movie. Once we see Hayden's very different Henry, and thus his dimension as an actor, one wishes he would shed more of the twittery volatility he gives his Richard.
Also in evidence, only as Richard, is a frequent Gielgudian quaver which adds nothing but affectation to Hayden's sufficiently impressive vocal music. Yet, despite these drawbacks, Hayden has burrowed deep into this Richard and remains compelling and affecting to watch.
In textbook-like contrast, Henry is a battle-hardened, man's man with an appealing aspect of vulnerability and self-doubt. The play is fast-paced and action-packed compared to Richard, but this has the pleasing effect of throwing into stark relief the quiet moments of wondrous monologue in which Henry questions himself and what it means to lead. Hayden is brilliant: sober, convincing, a real and credible man. With subtlety and understatement, he gives us Henry's touches of uncertainty, his awkwardnesses, and yet he also exudes the kind of inner-resolve that fuels a significant man. He is a true pleasure to watch.
A core ensemble takes roles in both plays and it is fascinating to see how they move in and out of prominence depending on the play, sometimes reappearing within the same piece in different roles. To see both productions is to sense what it must have been like to experience the repertoire of an Elizabethan acting troupe. Among this cohort is a small phalanx of veteran Washington players, not all of whom can still sufficiently project to get beyond their beards and the questionable acoustics of the Sidney Harmon Hall. But standing out among them is Floyd King, bringing his rich sense of character to many roles.
HENRY V





RICHARD II




To April 10
Harman Hall
610 F St. NW
$43-$94
202-547-1122
shakespearetheatre.org
Exuding the kind of presence, subtle expression, sense of irony, and command of the language that should see him into future leading roles, Derrick Lee Weeden plays Northumberland and Exeter, variations on noblemen serving as their king's enforcer. Charles Borland in the meaty role of Bolingbroke eschews the transatlantic accent of his colleagues which, principled as it may be, is nevertheless distracting. As a presence he can be somewhat self-conscious if consistently engaging. Stephen Paul Johnson, nicely understated in Richard II, is particularly colorful and compelling in Henry V. Tom Story, well cast to deliver the more ironic moments, shines as a foppish Dauphin in Henry V. Pleasing of voice, Darren Matthias delivers his nobleman Mowbray with much gravitas in Richard II and pulls off the very different but convincing ruffian, Pistol, in Henry V.
Director David Muse delivers a largely classical interpretation of Henry V, but it is effectively spare and dynamic, even with its impressionistic suggestions of battle. Unfortunately the "contemporary" chorus, smug and incongruous, distract far more than they facilitate or humor. Such intermittent moments aside, it's a taut and beautifully paced production.
Bottom line? You will think yourself accursed if you are not here.