Here are the top five reasons to make your way to the DC Arts Center in Adams Morgan to check out Landless Theatre Co.'s production of High Fidelity: A Musical.
1. You get to see a set that includes actual, honest-to-goodness vinyl albums. Or, at least, covers that used to hold actual, honest-to-goodness vinyl albums. (If you're particularly lucky you may actually catch a glimpse of André Previn and John Williams' soundtrack for Valley of the Dolls.)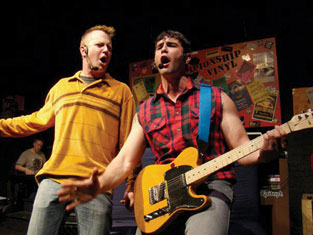 High Fidelity: A Musical
2. It's an opportunity to spend an entire evening listening to Karissa Swanigan sing.
3. Andrew Lloyd Baughman's suit. It's one hell of a suit.
4. The chance to wonder aloud if the modified Mohawk haircut is about to make a comeback.
5. The fact that the folks at Landless Theatre Co. manage to make it all look like such a good time. The whole thing. It's a crew that includes some wonderfully talented actors with a "let's put on a show" attitude and an utterly unselfconscious attitude. They love what they're doing and the spirit is contagious, even when they're doing it all in a theater space a good five feet smaller than their sometimes overly ambitious choreography really would demand.
The list of reasons could probably go on for a while, if it seemed likely one could get away with reviewing a musical wholly by listing out its attributes in a Desert Island Disc-inspired list. But that would be silly. Juvenile even.
Which is why it's a favorite pastime of Rob (Helen Hayes Award-winner Stephen Gregory Smith who rocks the 'hawk), Barry (Baughman) and Dick (Josh Speerstra), an oddball collection of anti-hipster record store misfits.
Except, the three aren't reviewing musicals. They're talking about the top five worst breakups and the top five best funeral songs, and nicknaming the scarce customers who occasionally wander in and out of Rob's flailing vinyl outpost.
High Fidelity the musical is based on the book written by Nick Hornby that also inspired a film of the same name. The book was applauded, the movie earned a cult following and the musical – written by David Lindsay-Abaire with music by Tom Kitt and lyrics by Amanda Green – managed to be on Broadway long enough to be entirely forgettable.
This fate of the musical is actually too bad as it gives the impression that there is, to borrow a phrase, nothing to see here. But that's selling it all too short. It's a fittingly literate musical filled with wry, sarcastic songs about "The Last Real Record Store on Earth," the aforementioned "Desert Island Top Five Break Ups," and lyrics like "In this light you don't look so bad…. I'm ready to settle for you."
It's a musical with cult potential all its own, making it the perfect piece for a company whose work has also included President Harding is a Rock Star and Gutenberg! The Musical!
When we arrive on the scene Rob and his girlfriend Laura (Swanigan) are entering into an uncertain breakup. We aren't exactly sure what's caused the split and no one seems ready to tell us because, you see, this is the kind of guy Rob is. He's an avoider. A dodger. The kind of guy who celebrates the possibility of getting back with a girlfriend by sleeping with another woman. He's complicated in a really uncomplicated way.
Swanigan's performance has already earned her a place in our top five reasons for seeing High Fidelity, but the failure to include Smith in that line up is merely part of a numbers game. He makes for an utterly appealing anti-hero. A charming voice tinted with just the right amount of smirk, Smith shines without stealing the spotlight.
HIGH FIDELITY: A MUSICAL



To March 14
DCAC
2438 18th St. NW
$25
landlesstheatrecompany.org
Playing his motley sidekicks, Baughman and Speerstra are the perfect odd couple. Speerstra deadpan and naïve, Baughman a wrecking ball with an instrument like a great belly laugh. The ensemble meets, matches and plays off one another with a camaraderie you can't manufacture.
Unfortunately, enthusiasm can only take one so far before you begin to long for just a bit more polish. It's okay to dream really big, as long as you're ready to recognize when the gap is simply too big to clear. Like the choreography that makes the stage seem a bit too much like the sky over a poorly managed airport – an overly crowded space with no room for error. Or the set that, while incredibly clever in its design, is too constantly in motion.
We won't mention the belly dancer tops. Because, really, no one ever should have.
But these are merely unfortunate distractions. Landless Theatre Co.'s High Fidelity: A Musical is a clever, comic and entertaining production.
And, seriously, you have to see the suit.