Tired of snow and freezing temperatures? You could wait a month for spring. Better yet, head south in a few weeks for winter's best fun-in-the-sun option, Miami's Winter Party Festival, organized by the National Gay & Lesbian Task Force. No chance of snow there.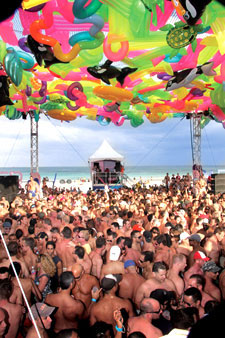 Winter Party
(Photo by MRNY)
"If that happened, we'd be pretty worried," laughs Winter Party's Chad Richter. "The only thing cold about the festival is the fact that there's winter in the title."
Richter is volunteer chair of the near-week of events starting Wednesday, March 3. The 17th annual festival is capped by the Beach Party, set for Sunday afternoon, March 7.
"That's our biggest event and really the crown jewel of Winter Party," says Richter. Nearly 6,000 revelers come to party right on the main gay beach in South Beach. "It's a big point of difference from a lot of other events around the country: We're actually in the sand," says Richter. Up-and-coming Brazilian DJ Ana Paula will make her debut as this year's Beach Party DJ, one of her first gigs in the U.S.
There's also a popular "dance and pose" pool party Saturday, March 6, at the festival's host hotel, the Doubletree Surfcomber. And every night brings a different dance party at venues throughout South Beach, plus a couple in downtown Miami and one up the interstate in Fort Lauderdale. All attract thousands courtesy of extravagant lighting and design and world-class DJs, this year including Rosabel, Chus & Ceballos, Boris and Tracy Young.
But it's not just about dancing. Throughout the week, there are different art exhibits, women's events, a swim meet, even an interfaith service. There's also a special shopping event set for Friday, March 5, launched by Richter's employer, Kiehl's. Participating shops along Lincoln Road, the hip pedestrian-only district, will offer free drinks, discounts and donations to the festival's beneficiaries.
And that's yet another thing that distinguishes Winter Party: Every year, two-thirds of the net proceeds go to local GLBT organizations, distributed through a program of the Dade Community Foundation. (The remaining third goes to the D.C.-based Task Force.) The average charitable haul is north of $150,000.
A 36-year-old native of Miami, Richter helped launch the city's first annual gay pride event just last year. But Winter Party, especially since the Task Force took it over five years ago, remains the town's international highlight.
"Our main thing is to party with a purpose and take care of each other," says Richter. "You can give back and have fun at the same time."
The Task Force's Winter Party Festival is Wednesday, March 3, through Monday, March 8. Visit winterparty.com for more information and to purchases tickets and passes.