Khadijah Tribble often escapes her daily routine by working at the Denny's near her Benning Road office.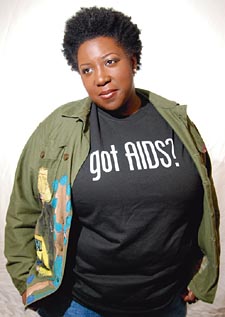 Khadija Tribble
(Photo by Todd Franson)
"There are times that I need to get out of my office to be able to think," says Tribble, executive director for Pediatric AIDS/HIV Care.
Lately, Tribble has been thinking about marriage as she's developing a wedding-planning business for same-sex couples.
On Friday, Feb. 19, working on her laptop at Denny's, Tribble was done writing grants for her day job and turned her attention to research for her business. That's when Tribble hit a roadblock. Clicking on any of her search results related to gay and lesbian weddings, Tribble was repeatedly taken to a site with a single phrase: "TurnKey."
"That's the name of the company that actually filters the Wi-Fi at Denny's," she says. "I kept trying to figure out why it kept blocking me, and then I realized the thing that was consistent in all of the blocks was 'gay' and 'lesbian."'
According to TurnKey's corporate profile, the company offers in-restaurant Wi-Fi services to Denny's customers across the country.
Tribble called Denny's headquarters and explained what was happening on her laptop.
"[Denny's] explained to me that they were a 'family establishment' and because they do offer Wi-Fi for free, certain words were [blocked] because they wanted to make sure the environment continued to be family-like."
Tribble, the mother of four children with her lesbian partner, was outraged.
"They were equating gay and lesbian with non-family, some sort of immorality, or some sort of inappropriateness," she says.
For some, that censorship might not have come as quite of a shock.
"I think every African-American person my age knows that they had had some issues with diversity, or discrimination against African Americans or people of color," Tribble says of the 1990s, which included a string of successful lawsuits alleging discrimination by Denny's against African-American clientele.
But in this instance, Tribble says it might just have been a technical error judging by Denny's responsiveness regarding the matter.
In a statement released by Denny's public-relations firm, Hill and Knowlton, on March 2, the restaurant chain's management sees room for improvement. "We agree that the key words brought to our attention should not be blocked by our Wi-Fi provider," Denny's stated. "We are working with our vendor and will take all necessary steps to correct this issue as well as review our current Wi-Fi family-friendly controls."
Tribble says she is pleased by the response.
"You don't know sometimes when you call these organizations to bring something like that to their attention whether they're going to be nice about it or nasty about it. I can say honestly that they were pretty up-front and open from the beginning. It was probably one of the easiest things I've done as an activist."