With high-profile arrests in front of the White House, a sit-in at House Speaker Nancy Pelosi's offices in Washington, D.C., and a coordinated sit-in at her San Francisco offices that both led to arrests and citations, Thursday, March 18, saw some of the most significant direct actions from LGBT activists in recent years.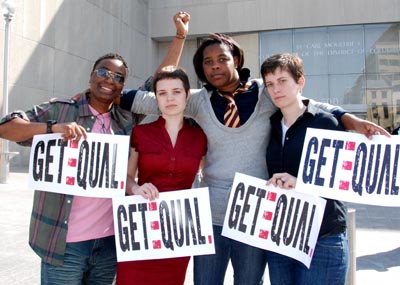 (From left to right) Chastity Kirven, Jay Carmona, Michelle Wright and Samantha Ames
(Photo by Todd Franson)
Get Equal, a group whose Web site was only launched in the past week and whose leadership is unclear, was behind the actions urging action on repealing the "Don't Ask, Don't Tell" policy and enacting the Employment Nondiscrimination Act (ENDA). Robin McGehee and Kip Williams, the former co-directors of the National Equality March, signed an email sent from Get Equal on Friday afternoon, March 19, discussing the actions.
Eight activists went into House Speaker Nancy Pelosi's office in the Cannon House Office Building at 4 p.m. Thursday for what was described as a scheduled meeting in her office. As Samantha Ames later told the Capitol Police, however, "We're not leaving until we get confirmation from Nancy Pelosi that she's going to have this bill up for a vote before the end of the month."
"So, absent that, we're not leaving," Ames said. "We're not making any trouble, we're not causing any damage or anything, but we're also not going to leave."
After an official with Pelosi's office informed the activists that the office would be closing at 7 p.m., four of the eight remained in the office. Capitol Police informed the activists that they would be arrested if they did not leave. About 7:30 p.m. a group of nearly 10 officers entered the office and restrained Ames, Janine Carmona, Chastity Kirven and Michelle Wright. The officers led them out of the office building and into a police van.
The four were released later in the evening and will face a hearing on their unlawful entry charges on April 6.
Several activists, including Get Equal organizer Williams, staged a similar protest at Pelosi's office in San Francisco. David McElhatton, another at the San Francisco protest, commented on Twitter, "After threatening us with a weekend in jail, we've been cited and released."
Drew Hammill, a spokesman for Speaker Pelosi, commented to Metro Weekly prior to the D.C. arrests that "the Speaker is with them on this," referring to the ENDA legislation.
"Anyone who wants this passed would be better served to talk to people who do not have a clear position," Hammill continued. "We would hope that we could move forward on this soon."
Though a newer group of activists – many of the same people who met at a retreat outside Knoxville, Tenn., in January of this year – were among those arrested, not all of the voices behind the Get Equal effort were new.
At the same time Choi and former Army infantryman James Pietrangelo II were chained to the fence in front of the White House on Pennsylvania Avenue, more seasoned organizers associated with the group like former Clinton White House official Paul Yandura and National Organizing Institute Senior Fellow Joel Silberman stood by with other Get Equal activists.
Yandura, a voice behind the "Dallas Principles" for LGBT equality, was listed as the contact person for all the arrestees in D.C. Silberman commented on Twitter that he "was with Choi this AM and wrote his statement."
Get Equal's Web site was updated on Friday to ask supporters to sign a pledge relating to the actions, "I stand with Lt. Dan Choi and the 12 others who were arrested on March 18 for peacefully protesting Don't Ask, Don't Tell, and for demanding workplace protections for LGBTQ people."
The Thursday actions should not be too surprising to those following McGehee and Williams over the past months. In a note posted to Facebook following the Tennessee retreat, the pair wrote, "We believe that it is time to escalate our demands through coordinated nationwide nonviolent direct action, and we hope to build a broad base of organizers to work with all who struggle for justice and dignity in their lives."