Jared Davis is doing his part to establish a "holiday for space." Now in its third year, his party Countdown to Yuri's Night celebrates the world's first manned space flight in the most non-scientific of ways: through a zany night of visual art, performance and music.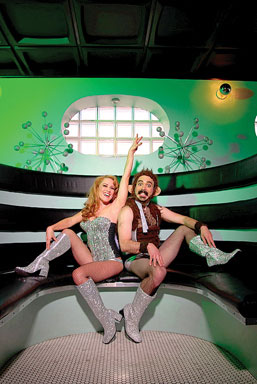 The party honors Russian cosmonaut Yuri Gagarin, who scaled space April 12, 1961, exactly 20 years before NASA sent up its first shuttle. Yuri's Night parties have become popular all over the world in the past decade, but Davis says most just stick to the science.
"If you open it up a little bit to be something more than just for scientists and space professionals," according to Davis, "there's so much more fertile ground with people who can imagine what things could be."
Glimpses of what could be: Miss Saturn, a veritable "hula hoop artist," the male and female drag musical comedy trio Eva Brontosaurus, and acrobatic duo Trixie Little and the Evil Hate Monkey. Those are just the headliners at the party's "Cosmonaughty Variety Show," to be followed by a "lunar" dance party featuring Russian and "space-y" music. An art exhibition offers space-themed photographs and paintings from some 20 artists, including Davis. And there will also be a costume contest.
Davis, who works by day designing sets for Arlington County theaters, calls himself a "big geek for space."
He jokes: "It's much bigger than Tang."
Countdown to Yuri's Night is Saturday, April 10, at 8 p.m. Capitol Skyline Hotel, 10 I St. SW. Tickets are $35 at the door. Visit outofthisworldparty.com.