Following a morning in which meetings were held at the White House and on Capitol Hill regarding legislative efforts to end the "Don't Ask, Don't Tell" military policy, a Democratic leadership aide said that although "promising" steps were taken, talk of a deal having been reached was "premature."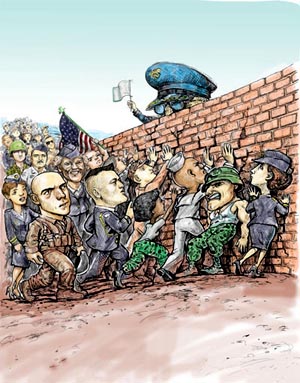 (Illustration by Scott G. Brooks for Metro Weekly)
With House Democratic leadership meeting at 5:30 p.m. Monday evening, May 24, the aide stated by e-mail, "In the House, we still have to ensure we have the votes to pass an amendment on the floor to the Defense Authorization. Discussions on that to continue this week."
The purpose of both meetings earlier in the day, according to the aide, was to discuss "possible language for inclusion in the Defense Authorization" regarding DADT repeal. DADT opponents have long considered the National Defense Authorization Act (NDAA) the best vehicle for repeal, and the Senate Armed Services Committee and full House are due to take up the bills this week.
A White House official confirmed that meeting took place today, and the leadership aide confirmed that HRC, SLDN and Servicemembers United were represented at the White House meeting.
The Capitol meeting included congressional policy staff from both the House and the Senate, the leadership aide stated, and the White House meeting was with the LGBT groups. According to a statement from Pentagon spokesman Geoff Morrell published at Politico, Pentagon officials also participated in the White House meeting. It did not appear that LGBT organizations were represented at the Capitol meeting.
In an op-ed in The Washington Post this weekend, former chairman of the Joint Chiefs of Staff, John Shalikashvili wrote, "[I]t is the military that will pay the highest price if Congress does not act now."
Unlike many advocates of repeal, however, he provided significant deference to the concerns of his successor, Adm. Mike Mullen, and Defense Secretary Robert Gates about implementation and wrote, "Congress could repeal the federal statute and return authority to the military to set rules about gay troops, just as the armed services had before "don't ask, don't tell' became law in 1993."
A report at The Advocate on Monday noted a source stating that this, essentially, was the "compromise" being discussed at the White House. Writing that "[p]ressure worked," Michelangelo Signorile – who has been critical of President Obama's efforts at LGBT equality – called today's White House meeting a "good thing."
Shalikashvili wrote that "repeal-only, without language instructing the Pentagon on what to do, would not impose change on the military," thus blunting the criticism of Gates and Mullen's letter. He acknowledged this was not advocates' aim but concluded that "the current political climate calls for reconsideration" of their desire to have the DADT policy replaced with a nondiscrimination policy.
Of that compromise, however, Signorile noted, "[T]heoretically, it means next POTUS could bring back gay ban, or this POTUS could drag out more." Shalikashvili doubted that would happen, calling it "highly unlikely that a future administration or Congress would roll back equal treatment once the Pentagon adopts it."
In a sign, though, that even a critic like Signorile does think this could be a significant step, he added, "But let's wait for details."
None of the LGBT organizations mentioned by the leadership aide were willing to comment about the White House meeting or talk about the details of possible compromises being discussed.
A spokeswoman for the House Armed Services Committee said, when asked if committee members or staff were represented at the Hill meeting, said "[Rep. Ike] Skelton [(D-Mo.)] is traveling in Missouri," noted that there will be "several meetings" this week regarding the NDAA and said she "d[id] not have any further information." A Senate Armed Services Committee spokesperson said that while he could confirm that Sen. Carl Levin (D-Mich.) did not personally participate, he did not have information immediately available regarding whether committee staff or his office staff participated.