"I've had people in their clothes, I've had people in no clothes, I've had 50 people in there at a time," Timur Tugberk says. He's talking about the small pool on the roof deck of the Donovan House, just south of Thomas Circle. Tugberk has revived for the summer the popular and diverse Tuesday gay party he started at the swanky hotel last year.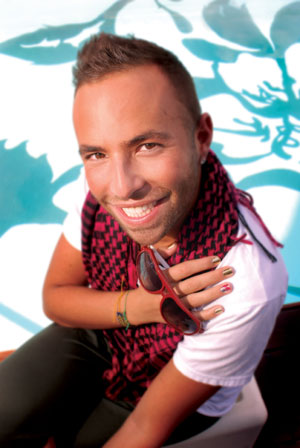 Timur Tugberk
(Photo by Todd Franson)
"There's no rule that you can't get in the pool," Tugberk says, explaining that he provides towels just for that purpose. However, he's quick to add, "You really do need to keep your clothes on."
The party, called Twilight Tuesdays, is specifically a social gathering, one meant to highlight both the city and its inhabitants. The views from the centrally located hotel's rooftop are impressive, especially during the party's first couple hours, when it's twilight.
"It's beautiful," says Tugberk. "The sun is setting and the city just looks magnificent. But once it gets darker out the party really gets going." That's when the party's resident DJ Moh Ducis plays progressive house music, "lighthearted deeper stuff like Sander Kleinenberg," says Tugberk, plus some familiar dance tunes from David Guetta and even Lady Gaga.
The 26-year-old Tugberk was born and raised in Potomac, Md., to a Turkish father and a Jewish mother, the youngest of three. He started throwing gay parties five years ago as he was finishing college at George Washington University. The parties, now including gay bars such as MOVA and the Green Lantern, were an outgrowth of his own event-planning and design-consulting business for various hotels and bars. But the Donovan House is where he's honed his skills.
"Whatever goes, goes," he says of Twilight Tuesdays. If people want to shake their booty, they can. If they want to swim, they can.
"I don't like to put restrictions on people."
Twilight Tuesdays happens every Tuesday through the summer, from 7 p.m. until after midnight. Donovan House, 1155 14th St. NW. No cover. Visit facebook.com/timurdc.