Enrique Divine, who just celebrated a birthday last week, laughs off questions about his age.
"You never ask that to a woman!"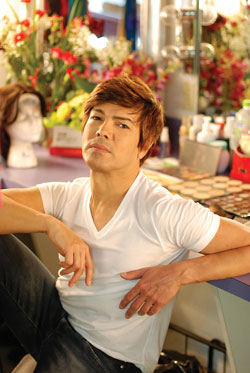 Enrique Divine
The character of Marian is clearly rubbing off on him. Divine currently plays the fictional Cuban transsexual dancer and singer in Gala Theatre's world premiere production of Héctor Quintero's El Bola: Cuba's King of Song.
"The character is very delicate," says Divine. "There is a fine line between a transvestite and a transsexual. I have to act as a real woman, because transsexuals are like real women. It's not like a transvestite who goes back to his life."
Marian is one of three singing characters in El Bola, focused on the life and songs of Ignacio Villa, the Afro-Cuban singer and composer from the mid-20th Century known by the nickname Bola de Nieve. Divine grew up in Venezuela listening to Bola and Cuban music courtesy of his mother. "Bola didn't sing very well," Divine says. "He interpreted songs. He transmitted the heart of what he sang."
Though Divine is a baritone, his register is fairly high. "My falsetto is very, very strong," says Divine. "I can manage as a woman — or as a man singing in falsetto." The singer, who was in a popular Menudo-like boy band in Venezuela called Chevere, adopted his pseudonymous last name from the nickname a dance instructor once gave him.
Divine gained most attention recently — and inspired Gala's choice of him for Marian — playing a transvestite on the 2007 Telemundo telenovela Dame Chocolate. Before that role, Divine, who is gay, had never dressed in drag. And drag is strictly just a job.
"Even doing this here for me is a little bit strange," he says of playing Marian. "When I'm onstage, I feel like I'm a woman, even having my voice [like a woman]. But it's very [intense] to do that. It confronts you."
That's true no matter what your age.
El Bola, performed in Spanish with English surtitles, runs to June 27. GALA Theatre at Tivoli Square, 3333 14th St. NW. Tickets are $34 to $50. Call 202-234-7174 or visit galatheatre.org.