"I've always liked drag anyway. If other people can do it, why can't I?"
Philip Doyle only started doing drag five years ago. Since then, he's become well-known around his party as La Marquesa, "a big, pretty Latina diva with blonde hair." She often performs with the party's regular drag queens, from Xavier Onassis Bloomingdale to "queen of the house" Gigi Paris Couture.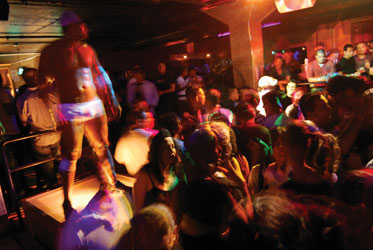 (Photo by Ward Morrison )
Doyle started the Saturday night gay party in 2003 at a downtown hotel because he sensed pent-up demand among his Latino friends and others who wanted to dance salsa, merengue, bachata and other musical styles popular throughout Latin America. "There really wasn't a big place to dance on weekends," he says. He brought on Hector Zarate as resident DJ and co-promoter a year later.
The Northeast nightclub Aqua has hosted the party on Friday nights for the past few years, but the party just moved over to the club's Saturday nights a little over a month ago. Doyle says it's a win-win for all involved.
"A lot more people can come and party," he says, noting that the venue is pleased with the crowds Doyle and Zarate attract.
An Ohio native who grew up mostly in Atlanta, Doyle worked at various hotels in D.C. until a few years ago when he started his own housecleaning service. When not busy with either business, Doyle cares for his live-in mother.
Fuego features a rotating roster of performers and DJs, both local and out-of-town, all an effort to mix it up. "We want to make sure the party's always fresh — that we're always appealing to all of the different age groups and types of people that come to Fuego," says Doyle.
La Marquesa only appears at Fuego "a couple times a month," says Doyle. Most recently, she performed as part of a tribute to gay marriage.
"We had a fight over a lover," he laughs. "We ended up getting 'killed' at the end of the song, but [the crowd] went nuts."
Fuego is every Saturday from 10:30 p.m. to 3 a.m. at Aqua, 1818 New York Ave. NE. Cover is $10, and free parking is available. Visit clubfuegodc.com.