Unlike a lot of soul singers, Goapele didn't get her start singing in talent shows or church. "When I first started singing in public as a teenager it was at community events," such as anti-apartheid rallies, explains the 32-year-old San Francisco native.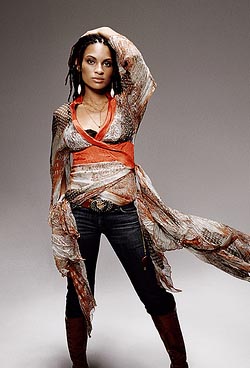 Goapele
Goapele's parents were both activists — her father was an exiled political activist from apartheid South Africa — and a lot of South African artists would drop by her family's house while traveling through the Bay Area.
"I remember seeing Miriam Makeba when I was really young at a house party at our house," says Goapele. "Music was just really integrated into my life."
Goapele, who has been singing professionally for nearly a decade, headlines this year's Women's Pride Concert at the 9:30 Club on Friday, June 11. She'll perform older tunes as well as new material from her third album Milk & Honey, which she plans to release this fall.
Despite her ingrained social activism, the concert will be the straight singer's first official Pride event anywhere.
"[Gay] is not how I personally identify, but I feel like that right should be protected," says Goapele. "I have friends and family members who are gay, and I feel like it's important to support their happiness and basic freedom."
The last time Goapele was in D.C. was during Obama's inauguration. "I felt like for that day, I was part of a larger movement," she says. "It felt like we were all moving towards something positive together."
Goapele performs with The Pushovers and Bitch on Friday, June 11. Doors at 8 p.m. Nightclub 9:30, 815 V St. NW. Tickets are $30, including the Women's Pride Party afterwards. Call 202-265-0930 or visit 930.com.