When Proposition 8 was passed in California during the 2008 elections, not only did it put a stop to marriages for same-sex couples in the state, it was a resounding defeat for the LGBT community nationwide. Almost inevitable with any loss, the recriminations and finger pointing started almost immediately.
Soon, a number of fingers started pointing east, across the state border to Utah, and specifically to the headquarters of the Church of Jesus Christ of Latter-day Saints. In 8: The Mormon Proposition, writer and director Reed Cowan, a gay journalist from Miami, explores the huge sums of money that the church poured into California to pass Proposition 8, and the disastrous affect it had on election day. Cowan then examines the why behind the church's actions, how LGBT issues relate to the church, and in particular, the way in which LGBT Mormons are excommunicated, if they're lucky, or driven to more extreme actions if they're not.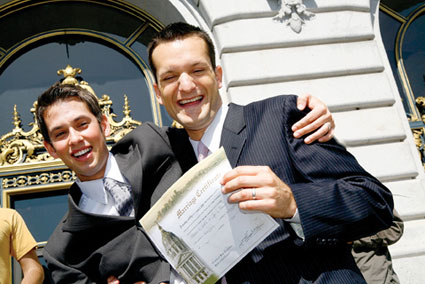 From Mormon to married: Barrick and Jones
Cowan begins by putting a face to the story. Tyler Barrick and Spencer Jones are a young couple from Mormon families who live in San Francisco and were among the first to rush down to City Hall to be married. Since there are few things more precious than young love, the couple's earnestness is readily apparent. From their teary nuptials to their screaming at anti-gay protestors, the couple brings an invigorating level of enthusiasm to their story. Yet they pale when compared to Tyler's mother, Linda, whose tearful interview is moving and heartening. While Tyler and Spencer reference family members who are estranged because of their sexuality, it's really Linda's unwavering love for her son in defiance of the church's teachings that resonates.
Cowan then widens the camera's lens, pulling back to capture the heart of the church in Utah, and the anti-gay vitriol that spews forth from its leaders. Using audio from church-wide broadcasts, Cowan provides undeniable proof that church leaders encouraged members to send money, urged them to get involved and, if former Mormons interpreting the message are correct, threatened eternal consequences if action were not taken. The unapologetic nature of the broadcast is chilling.
By the time 8: The Mormon Proposition transitions to the homelessness situation for gay youth in the Mormon church (the original subject of the film before it was expanded to include Proposition 8), it's not surprising to learn that they're being kicked out of their homes by disapproving parents. Yet it's no less shocking when Cowan quotes parents who state their son's suicide was preferable to him growing up to be gay.
Just as Cowan puts a face to those adversely affected by Proposition 8's passage, he also introduces some of those most vocal in Utah against the LGBT community. Mormon activist Gayle Ruzicka is almost comical when explaining that it's important to be straight to ensure passage into the afterlife where polygamy awaits, but it's State Senator Chris Buttars who will really rankle audiences. When Cowan's footage of Sen. Buttars speaking against the LGBT community from his office during Senate hours was aired by local news stations, a mini-furor erupted. In other states, it might have been a Helen Thomas-moment and resulted in consequences, but not in Utah.
8: THE MORMON PROPOSITION



Directed by Reed Cowan
Narrated by Dustin Lance Black
June 18-20
AFI Silver Theater
Silver Spring, Md.
While Cowan ably creates an effective narrative, the technical aspects of the documentary don't live up to the same standards. Rudimentary editing, unnecessary graphics during transitions, and an overusage of the same stock footage (there are only so many times we can watch money being counted), reduces the production to a lower quality than the story. However, Academy Award-winner Dustin Lance Black's narration of the film is neither overly dramatic nor monotonous, and his inflection conveys an emotional investment in the work.
While 8: The Mormon Proposition makes a solid case for laying the blame at the feet of the Mormon church, Cowan never examines the other side of the equation. Every campaign has two sides, and there were enough questions about the effectiveness of the "No on 8" campaign that making no mention of it feels like an oversight, whether intentional or not. Covert groups, hidden agendas, and selectively chosen spokespeople are common elements in elections (Swift Boat, anyone?). Why opponents aren't prepared for that should factor in some way, if even minutely, to provide balance and legitimacy. Doing so would have made 8: The Mormon Proposition feel more journalistic and less like propaganda against the church. That said, if Cowan's intention is simply to motivate his audiences to help curb the church's effectiveness next time, then hallelujah.