More than 16 years ago, Doug Langway stood across the street from a New York bear bar wondering if he had the guts to go inside and start his life as someone who is gay and a bear-lover.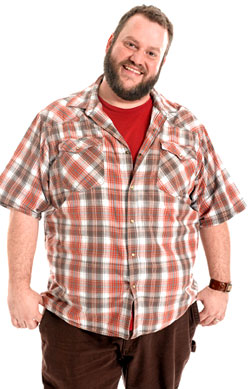 Doug Langway
The experience helped inform Langway's BearCity, the first American feature film about gay bear life. Admitting that one is or prefers the company of bears — generally speaking, heavier and hairier men than the average gay — can be akin to a second coming out, notes the 40-year-old filmmaker. "It is about figuring out what you like, and realizing that you are physically attracted to something that is different than what the rest of the world says it should be."
Langway, who co-owns a media and marketing company, wrote the script for BearCity with Lawrence Ferber, basing the fictional characters on their experiences and those of their friends. The film has won critical praise and awards at festivals over the past few months, including Grand Jury Awards at L.A.'s Outfest for screenwriting and actor Stephen Guarino.
In addition to the positive reception, Langway found particular encouragement by the support received during filming last summer. For instance, after putting out a call for extras, "people drove up from Tennessee and Texas [and] flew in from San Francisco. They were busing people up.
"I just really have to say this film could not have been done without the amazing support of the bear community."
Langway and the cast sit for a Q&A session following a screening presented by One In Ten, Saturday, Oct. 16, at 7 p.m. Harman Center for the Arts, 610 F St. NW. Tickets are $15. Call 202-547-1122 or visit reelaffirmations.org.