"I know you could be just like you should," Elton John sings at the top of his new set The Union. "If it wasn't for bad, you'd be good."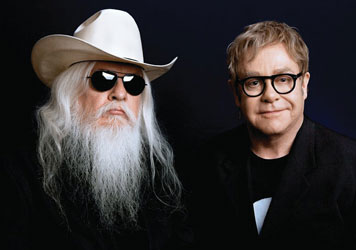 Leon Russell and Elton John
Is he talking about himself? Not exactly, since the song was actually written by Leon Russell, who sings the bluesy burner "If It Wasn't For Bad" with John.
Certainly the gay John has pissed off or let down many, one too many times in the recent past. He supported Eminem's calculated homophobia. He performed at Rush Limbaugh's fourth wedding. He's criticized contemporary pop stars, sounding a bit like a bitter queen, certainly showing his age. And he's churned out some schlocky show tunes and other pop drivel.
So maybe your instinct is to ignore The Union. And unless you're a resolute fan, you won't miss much. The set recalls John's earliest days of recording, in the early '70s. Some people find that era of pop music more appealing than others. In any case, it was nearly 40 years ago.
"I don't have to make pop records anymore," the 63-year-old John told Billboard magazine earlier this year. He means it, too: No song on The Union sounds like a current-day pop hit, or as if written with such aspiration. Does the world really need more stretched-out, overly dramatic rock ballads? "Eight Hundred Dollar Shoes" just costs too much. And "There's No Tomorrow" lives in the past.
You can't judge The Union solely based on its two weakest songs, of course. And the set's overall gritty feel — this is nothing like John's usual polished pop — grows on you the more you listen.
Ultimately, The Union will not pile on to any hostility you might harbor toward John. It features its fair share of saving graces. In fact, you can't help but appreciate the touch of grace and gratitude John displays here toward Leon Russell. Russell helped pioneer the bluesy piano rock sound that John made his stock in trade. Russell was even instrumental in launching John's career in the U.S. In the intervening decades, John's career skyrocketed, making him the third best-selling pop act in the land, after only the Beatles and Madonna. Russell, meanwhile, toiled in relative obscurity, and suffered from failing health.
Working with his longtime songwriting partner Bernie Taupin, John conceived The Union as a vehicle to reassert Russell's place in the rock firmament. The two sing together on every track, with Russell usually taking the lead. And they both also play piano, often in a playful duel.
"Now the time has come, I know you're a dream come true," Russell sings on one of several jaunty, honky-tonk tracks. With the extended instrumental jam that carries out the song, "A Dream Come True" also highlights The Union's strongest attribute: the music, especially the ravishing backing band. "And I feel the beat of the dancing drum," John sings, and he's right. Producer T-Bone Burnett enlisted R&B organist Booker T. Jones, steel guitarist Robert Randolph and a 10-piece gospel choir, among others, to flesh out the sound. Neil Young and Brian Wilson also offer guest vocals on a couple tracks. All of it was recorded live in the studio, with just a few takes and minimal post-production. (Filmmaker Cameron Crowe also recorded the sessions for an upcoming documentary.) Though occasionally John sings with less passion than you'd expect, sounding a bit distracted, you can feel the energy and enthusiasm in the room.
ELTON JOHN & LEON RUSSELL
The Union
Decca Records
$18.98



That energy is present even when the songs are slow and sorrowful, which is the majority of The Union. Russell and Taupin collaborated to write "I Should Have Sent Roses," an exquisite ex's lament about not doing enough to salvage a relationship.
"Cause I never sent roses, I never did it in love," Russell sings, in a style expressing real ache. "I didn't know how to love you, though I loved you so much."
A couple songs later, John responds with "Never Too Old (To Hold Somebody)." "I could bet on a horse, but I'm betting on you," he sings to the loveless. "You still got what it takes. You got nothing, nothing to prove."
With The Union, neither man may be at his musical peak, but they prove they've still got what it takes.