"Throughout the '70s," says Carol Maillard, "there were a lot of pop and R&B singers putting out songs that had something to do with people's actual lives, not just love songs."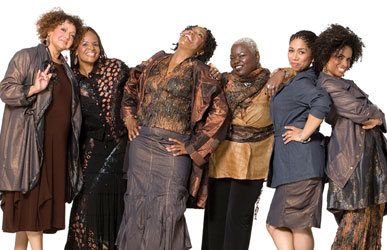 Sweet Honey In The Rock
Now more than ever, Maillard's Sweet Honey In The Rock is carrying on that tradition. In the past year, the Grammy Award-winning ensemble, formed in 1973, has written, as a group, two socially conscious songs: "My Family," penned for the gay-inclusive HBO documentary A Family Is A Family Is A Family: A Rosie O'Donnell Celebration, and "Are We A Nation?," written as a response to Arizona's restrictive new immigration law. "It's really an energized, wonderful song," says Maillard, describing the plaintive ballad, steeped in the civil rights-era.
Sweet Honey formed as an a cappella group, four women who were actors and musicians associated with the former professional theater group the D.C. Black Repertory Company. "[Singing a cappella] is how we were trained in the theater," says Maillard, a founding member. "Any sound we needed to help move a play along, we worked on ways to do it vocally."
This Saturday, Oct. 23, at the Warner Theatre, Maillard says the focus is on issue-based pop and R&B hits from the likes of Marvin Gaye and the Isley Brothers, interspersed with Sweet Honey's own repertoire.
"We feel as though we're a very contemporary group," says Maillard. "We don't forget our past. We stay firmly in the present, and we really do try to offer solutions for the future."
Saturday, Oct. 23, at 8 p.m. Warner Theatre, 513 13th St. NW. Tickets are $30 to $57. Call 202-783-4000 or visit warnertheatre.com.