A semi-hallucinogenic, unapologetically creepy fantasia on the life and unsolved murder of pre-pubescent beauty queen JonBenet Ramsey, House of Gold is a play that withers on the vine. Though playwright Gregory S. Moss captures, with a kind of gruesome flair, the notorious personalities that fed upon JonBenet and her restless spirit, this dreamlike array of vignettes offers more a troubled mood than provocative insight. Put another way, there is more accumulation here than cohesion.
Even with accessible (and occasionally humorous) moments between the ones that are more surreal, the plays feels unanchored, open-ended – in a way that's not good. Even if one can appreciate the potency of the production's tabloid-infused vision, the voices Moss throws from his psychological circus ultimately tell us nothing intelligible or new and thus we are left with little more than a grotesquerie.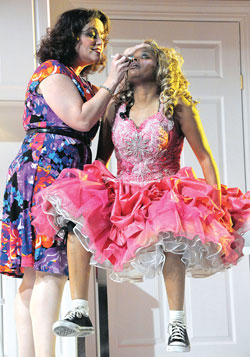 Not so golden girls: Townley and Briscoe
(Photo by Stan Barouh)
Like a Dorothy with no "home" to wish for, The Girl (so named for JonBenet) moves through a perverted Oz, interacting with all manner of twisted minds including deranged parents, a beleaguered neighborhood kid, a nefarious stranger and even the police detective obsessed with solving her murder. With each movement of the piece we are meant to see another side of someone's obsession with JonBenet. If there is a Wizard, it is The Girl herself, who in the end shows herself to be the curtain behind which something else apparently resides. If only we could grasp what.
On the plus side, director Sarah Benson, undaunted by Moss's approach, provides powerful momentum to the unfolding segments. With memorable precision, she slows down time, sound and space for Moss's few connections and monologues. Masters of unsettled colors, textures and props, costume and set designer David Zinn along with lighting designer Colin K. Bills, saturate the piece with a superb insight and ugliness that is far more telling than anything off the page.
Fully immersed and knowing what they need to deliver, Emily Townley as Woman (The Girl's mother) and Randy Blair as Jasper, The Girl's misfit friend, make the strongest impressions, each offering a nuanced, often ironic performance. Both have the kind of understated comic timing that can make anything, even the disjointed surreal, amusing and accessible. Though they are less than original, Townley nevertheless imbues her Woman's moments of self-revelation with a compelling rainbow of barely-suppressed emotions.
Michael Russotto gives his Man (The Girl's father) a certain believability until he corners The Girl in the bedroom, where he cannot surmount the contrived contortions of Moss's monologue. It is hard to fault him. As the Detective, Mitchell Hebert appears to revel in the demands of the role, but, again, with nothing but the briefest sketch of the man's obsession beneath the surreal trappings, he's spinning his wheels.
Dominating the play and perhaps meant as the deepest exploration of the motives behind The Girl's pursuers, is the scene in which the stranger Joseph M. Lonely Jr., lures her into his Neverland of a basement. Cleverly conceived, the scene plays below as it is screened above and thus we watch, voyeuristically, as Lonely attempts a coercion that is at once sexual and psychological.
Yet, even as James Flanagan does his best to deliver this damaged male, there can be nothing credible in his cri de couer when it caps the kind of drawn-out cat-and-mouse victimization so often favored by the entertainment industry. Did Moss intend to reflect our society's insatiable appetite for the gory details? Were we meant to see ourselves in Lonely's need to be (inside of) The Girl? If so, the questions are neither fully set-up nor artfully asked.
HOUSE OF GOLD


To Nov. 28
Woolly Mammoth
641 D St. NW
$40-$65
202-393-3939
woollymammoth.net
And finally there is The Girl, played by Kaaron Briscoe, wearing her character almost as obviously as she wears her sparkling pageant dress. As an adult African-American playing a white 6-year-old, the layered effect was obviously intentional. And in the program, the playwright tells us that one reason for casting Briscoe was to intentionally distance the play from the "real" JonBenet.
But this simply doesn't square with the rest of the program where the Ramsey case is referenced by name and chronology. Whether Moss's failure to capture a six-year old's voice, or Briscoe the inherent music, were intentional choices presents another conundrum. Since Jasper feels like a living, breathing kid we know Moss can do it when he tries. But if he wanted The Girl to be a parody of our view of JonBenet – or any child celebrity for that matter – it cannot work without greater overall insight.
And that is what it all boils down to. What is the point of this construct, or any other edgy choice if the play still leaves us with nothing larger than the feeling that we've fallen asleep in front of one of those ripped-from-the-headlines TV shows and had an awfully weird and garish nightmare?