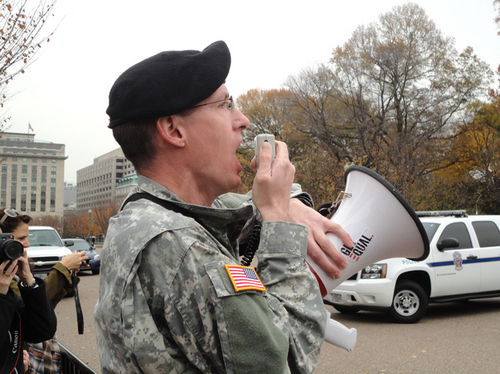 [Photo: James Pietrangelo II sent his message to the White House from across Pennsylvania Avenue on Monday. (Photo by Yusef Najafi.)]
When Lt. Dan Choi handcuffed himself — as Metro Weekly reported earlier today — to the White House for a third time this year, James Pietrangelo II, Choi's fence partner the two previous times, stood apart from him and moved to Lafayette Park across Pennsylvania Avenue. The video above shows the scene as the onlookers were told to move away from the handcuffed activists. Prompting chants from the crowd and a call-and-response from the 13 activists handcuffed to the fence, Pietrangelo helped keep the crowd and media busy after the police forces present pushed onlookers into Lafayette Park.
Although not up on the fence, Pietrangelo was still participating with today's protest — with a Get Equal logo emblazoned on his bullhorn.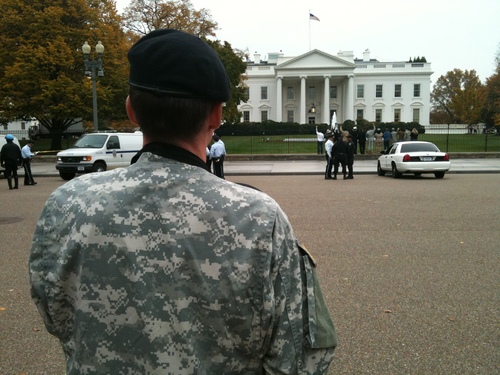 [PHOTO, ABOVE: Pietrangelo stands across Pennsylvania Avenue from the White House fence, where he previously had joined Lt. Dan Choi and others in being arrested in protest of the "Don't Ask, Don't Tell" policy. (Photo by Chris Geidner.)]
PHOTO, BELOW: Thirteen people, including Get Equal co-founder and director Robin McGehee (far right), handcuffed themselves to the White House fence on Monday and were later arrested. (Photo by Yusef Najafi.)]