Last year Cut Copy turned down Lady Gaga.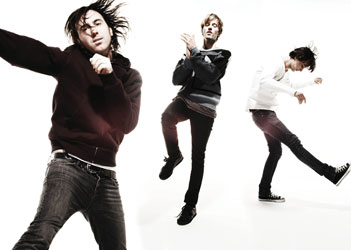 Cut Copy
"We were literally in the middle of making our record and we couldn't commit to a year of touring," says the band's guitarist Tim Hoey.
The Australian electro-pop band had previously turned down opening-act offers from Coldplay and Nine Inch Nails, among others, so the band was surprised by reaction to the decision.
"I couldn't believe how much people started writing about it," says Hoey. "I guess it just has a lot to do with what Lady Gaga's profile is at the moment."
Even without Gaga, Cut Copy's profile has been on the rise. Ever since the breakthrough success of its second album, 2008's In Ghost Colours, the band has been on a tear, repeatedly selling out celebrated concerts venues.
Vocalist and keyboardist Dan Whitford started Cut Copy as a solo project in 2001. He eventually convinced friends Hoey and Hoey's roommate Mitchell Scott to teach themselves how to play guitar and drums, respectively, and join the band.
Hoey grew up in a small coastal town in New South Wales as "a huge music fan as a kid." But he never intended to be in a band, and never officially learned to play an instrument. He went to college in Melbourne to study fine arts.
Last year the band added bassist Ben Browning, a longtime friend who had started playing on its last tour, "to help fill out the sound live." Now, he's done just that on record, with the release last month of Zonoscope. The set was intended, says Hoey, to "capture this kind of hedonistic, euphoric listening sensation."
Cut Copy performs Tuesday, March 29, and Wednesday, March 30 at the Nightclub 9:30, 815 V St. NW. Doors at 7 p.m. Visit 930.com. Members of the band will also DJ as part of a party after the show on Wednesday, March 30, after 10 p.m. at U Street Music Hall, 1115A U St. NW. Tickets are $10. Visit ustreetmusichall.com.