As one of the most well-known and accessible of operas, admitting a passion for Puccini's Madama Butterfly isn't likely to win you any brownie points with the opera elite. For although no one will argue with Puccini's genius, in the high-stakes game of operatic one-upmanship, "passion" is more often reserved for the work so obtuse it leaves everyone but the nose-whistling claimant wondering what they are missing. And yet, irrespective of its wide appeal, Butterfly is a piece that can be discovered again and again. As it pleases the crowd, so it pleases those continually fascinated by Puccini's complex musical architecture, a magnificent cathedral to love and loss. When done right, Butterfly can simply astound.
And this Washington National Opera Butterfly is very right. Alighting not a moment too soon, it comes on the heels of an uneven season, a very long winter break and the announcements that artistic director Placido Domingo will depart this summer and that the WNO will affiliate with the Kennedy Center. The timing couldn't be better. This is the production that tells us the WNO is still a contender.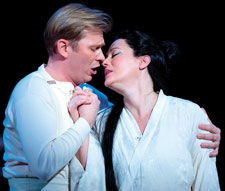 "Madam Butterfly," Dolgov and Naglestad
(Photo by Scott Suchman for WNO)
Of course, with an unusually long run and two casts, the experience will vary, but there is also much to unite it. Foremost is director Ron Daniel's powerful imprint. With an acute focus on the acting as well as the singing, this Butterfly is fully engaged theater. The leads are connected and emoting with an authenticity still not often found in opera and it makes a world of difference. With his artistic team of Micheal Yeargan (sets and costumes) and Stephen Strawbridge (lighting), Daniels artfully balances this realism against nods to Japanese theater traditions and the warm palette and simple dream-like beauty of 19th century Japanese print art. The entirety is effective and quietly magical.
Yet the story played out before these serene sets is relentless in its pathos, and this too makes for a poignant juxtaposition. Having no father and no longer any family money, the young Cio-Cio-San (aka Butterfly), has jumped at an offer of marriage from an American stranger, B.F. Pinkerton, a lieutenant in the U.S. Navy. Only on shore leave, Pinkerton relies on an ancient Japanese custom that allowed men to marry on a month-to-month basis. Though Pinkerton is certainly besotted with Butterfly, he never intends to honor the contract beyond the honeymoon. With cavalier promises of return, he soon leaves Butterfly behind. Thus begins her lonely vigil. Blind to the warnings of her village, Butterfly continues to believe that Pinkerton will soon return and bring her to America as his wife. When he does finally arrive, everything for both of them has changed and Butterfly, who has lived in delusion and hope, realizes that she has lost everything. It doesn't end well.
Although Butterfly is a shockingly young 15 years of age, Catherine Naglestad in the title role sensibly skirts too literal an interpretation. Hers is an appropriately shy Butterfly, ready to love with the boundlessness of the uninitiated, yet she presents more as a young woman than a girl. This works well with Naglestad's intent to show Butterfly's single-mindedness and yet also her dimension. When Pinkerton finally returns but fails to disembark, Butterfly spends all night watching his ship in the harbor. We see only her back through the long night as Puccini's score describes her inner landscape. Yet as day arrives in a myriad of delicate hues, Butterfly turns to give us one look and, in that look, Naglestad shows us a woman of compelling complexity and sorrow. She may have given herself to love, but she is, in the end, still capable of doubt and, ultimately, wresting back her fate.
Of course, inextricably part of any Butterfly is the soprano's ability not just to bring her to life but to sing some of the greatest expressions of human love and grief found in opera. Though rather tentative in her opening aria and at times blurring her articulation, Naglestad offers a transportingly gorgeous sound when it counts, giving voice to a potent, rich, and heartbreaking Butterfly.
An exceptionally charismatic Pinkerton, Alexey Dolgov crafts a very believable young man – flawed, likable and, when it comes time, convincingly remorseful. With naturalness and superb timing, Dolgov keeps what can be a stiffly delivered role living, breathing and fresh. Add to that a compellingly virile tenor with some very satisfying high notes and this was a Pinkerton who left us wanting more.
MADAMA BUTTERFLY





March 4-19
Kennedy Center Opera House
$55-$300
202-467-4600
dc-opera.org
Of the three supporting roles, Michael Chioldi delivers a nicely understated but detailed and poignant Sharpless, the American consul who tries his best to prevent and mitigate the tragedy. His singing is expressive and nicely executed. As Butterfly's kind and somewhat long-suffering servant, Margaret Thompson sang with silken tones and in pleasing contrast to Naglestad, especially in their duet. As Goro the matchmaker, Robert Baker sings ably but teeters unpleasantly near caricature. Mention must be made of Domingo-Cafritz Young Artist Javier Arrey as the unrequited Prince Yamadori, a small role to which he brings a very agile and attractive baritone and an impressive stage presence.
Even with these excellent and memorable performances, the greatest praise must be saved for conductor and new music director of the WNO, Philippe Auguin. A well-timed injection of talent and energy, Auguin draws a fabulous rendering from a clearly inspired orchestra. Whether you have to beg, borrow or steal your net, this is the Butterfly to catch.