It must be nice to be Tom Goss's husband. After all, the good-looking Goss, with his sweet tenor voice, is hopelessly devoted to the man. Most of his music is about his blissful relationship, and Goss literally sings his praises for the world to hear.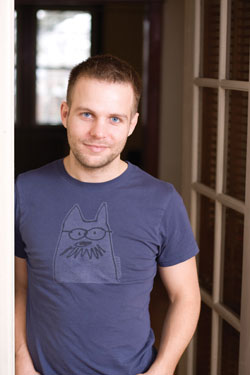 Tom Goss
(Photo by Dented Lens Photography)
"All my life, I have been waiting for someone, who could sing my song, who could lead and sing along," Goss sings on "Is It Too Early?" On the sweet acoustic ballad, Goss answers the titular question with a decided no.
Clearly, the soon-to-be 29-year-old's wait was over a while ago. Though Goss only got married last year, he's been in his blissful relationship for nearly six, longer than his recording career. In fact, the relationship not only inspired him to make music in the first place, it serves as the spark to keep it going.
Goss intended Turn It Around, his latest self-released acoustic pop album, as a change of pace from his recent turn to political activism, with the marriage equality-focused EP Politics of Love and a couple songs protesting the ban on gays in the military.
But ultimately, Turn It Around is more of a continuation of 2009's charming Back to Love, which featured a couple songs that seemed custom-made for his wedding. He's made even more of those here, chiefly the bright-eyed ballads "Spaces Unseen," "Two Steps From You," and "Is It Too Early?" The set is a tad too monotone — Goss brings a kind of religious fervor to the subject of love. The former Catholic seminarian is now, for all intents and purposes, a singing preacher of love. The music pops here and there, offering many a catchy melody and repeated glimmers of pizzazz — Goss shakes a rain stick in addition to playing guitar and piano, his producer Mike Ofca occasionally plays the mandolin and Erik Kerr can really pummel the drums on command. But in the main, it's the lyrics that stand out, taking center attention.
"About love, they say that you never know enough," Goss sings on "Spaces Unseen." "And trust me, I haven't even begun to sing." It'll be interesting to see if Goss can sustain a music career on good tidings of love joy. On "You Know That I Love You," he concedes that, "I've used up those three words."
TOM GOSS
Turn It Around
Tom Goss Music
$13.35



AND A HALF
To be fair, all's not wide-eyed wonder here. One obvious exception is the simmering "All I Ever Wanted," relating Goss's pain and confusion as he struggles to keep faith in God at a time when the world's injustices seem to be as bad or worse than ever. "All I ever wanted, was to see you there," he sings, presumably to God.
Furthermore, Goss isn't strictly sanguine about love — he mentions that his parents' love didn't last on "You Know That I Love You," concedes he's not always the perfect or ideal lover on "Make Believe," and "Seems Like Yesterday" is addressed to a woman who "in another life, I'd surely take your hand." Only instead, he found his true love with a man. "Only settle for the truth," he counsels.
He offers more advice on the title track, the set's liveliest and most immediately appealing. It bounces along on an early '80s pop beat that might remind you of a hit from Katrina and The Waves, or The Pretenders.
"The kiss…it's exactly what you dreamed. Still, it's precisely what your mother feared," Goss sings, before leading a syncopated chant of "la da da da da da yeah ah," and the charge, "turn it around."
As they say in church, a-men.