Jeremiah Clark was weaned on sad contemporary Christian songs. But now that's he secular? "[A sad song] doesn't have to be Jesus on a cross anymore," he laughs.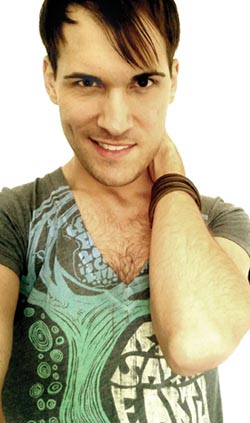 Jeremiah Clark
Clark was only 16 when he started writing songs in his bedroom. Last year, after years spent in more traditional employment, Clark, now 26, committed to becoming a full-time musician, a move spurred on by touring in support of D.C.'s popular gay rocker Tom Goss. This Saturday, May 14, Clark stops by Black Fox Lounge on Connecticut Avenue for a show to promote his self-released debut album, Just Another Sad Song.
Clark turned away from becoming a contemporary Christian musician soon after graduating from his Memphis-area high school. "My beliefs changed a lot when I accepted who I was, as a homosexual," he says. "I became much more spiritual. I found faith in the people around me more so than any holy text."
Now a practicing Taoist living in Pittsburgh, Clark grew up the youngest of two boys in a family nominally Southern Baptist. "My parents have accepted me for who I am, they embrace that," he says. "I'm very thankful."
Though his sweet, smart pop/rock is pretty wide-ranging and reflects influence from other artists, including Goss, Tracy Chapman, even Sarah McLachlan, Clark cites a rather unexpected bluegrass star as his greatest musical influence. "I've always loved Alison Krauss," he says. "I always really appreciated [her] conviction."
A sense of conviction is one thing Clark carried over from his early dabbling with contemporary Christian music. "I feel like my conviction in writing is just really [about being] emotional and expressive about experiences that I and others around me have been through."
In other words, his sad songs say so much more now.
Jeremiah Clark performs Saturday, May 14, after 9 p.m. Black Fox Lounge, 1723 Connecticut Ave. NW. Free. Call 202-483-1723 or visit blackfoxlounge.com.