Which way was Lady Gaga born, exactly?
Another album, chock-a-block full of songs that remind you of hits that came before, and another reason to wonder: Was Gaga born to be a clone? She does claim to be perfect, after all. "God makes no mistakes," she sings on "Born This Way."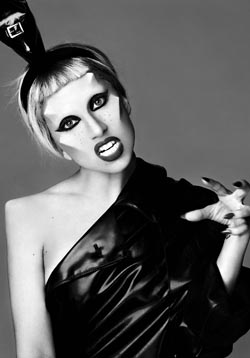 Gaga
(Photo by Nick Knight)
Of course, Gaga, officially born Stefani Joanne Angelina Germanotta, instead styles herself as born to be a gay savior. And really, no one else has yet scored a No. 1 pop hit with lyrics giving props to the mouthful that is the queer rainbow spectrum. ("No matter gay, straight or bi, lesbian, transgendered life," she sings in the bridge to "Born This Way.") "Born This Way" was designed from the get-go as a gay anthem, which is simply unheard of. Her new album Born This Way has other self-empowerment anthems that are at least subtly geared to the queer market. "Heavy Metal Lover" is even an ode to the leather lifestyle.
Precisely because of her gay do-gooder stance, it can be hard to criticize the Lady. And I don't just mean because her "little monsters" will put their paws up and claws out. When someone is so clearly on your side and causing a ruckus in support, sometimes you'd rather just bite your tongue than say anything negative.
Certainly you'd do better than to suggest that Lady Gaga could be killing pop music – at least that of the dance-pop variety.
Oh yes, it's a tad ridiculous. But remember how disco crashed and burned in the mainstream 30 years ago? A gay-baiting, anti-disco backlash developed, and hard rock took over after the public overdosed on the genre, in large part thanks to too much Bee Gees. And Gaga is even more omnipresent – and self-important – than those falsetto fellas ever were.
In many ways we're a different society now than we were then, so who knows? In any event, Gaga has certainly mastered the art of getting – and keeping – attention, not just in terms of publicity and performance, but all the way down to the very music she creates. She recycles ideas from what's worked before in pop music, mixing the hit ingredients in a blender, and then topping the derivative concoction off with a little power boost, to make it all bigger, bolder, louder. In the process, though, the songs often come out sounding mechanical, cold, gloppy, with little sweetness or color. Musically speaking, Born This Way is rather uninspiring, even depressing.
Take "Judas," the second single from Born This Way. It seems to draw melodic and thematic elements from several of Gaga's previous coldhearted hits, chief among them "Poker Face" and "Paparazzi." And yet this time around, the end result is far too sinister. She sings of a man who's betraying her – "I'm just a holy fool, oh baby he's so cruel," she sings in the chorus, "but I'm still in love with Judas baby." She chants and growls her way through the song as if it were all a taunt, or a joke. Whatever Judas's charm, she hasn't sold me.
Surely you've heard by now the melody to the album's title track is a rehash of Madonna's 1989 hit "Express Yourself." And it's hard to believe it was unintentional. After all, all throughout her past sets, The Fame and The Fame Monster, a listener could play "name that reference," so easy was it to spot the influences: Depeche Mode, Madonna, ABBA, Ace of Base, Queen.
This time around, you also hear the power-pop influence of Max Martin, and specifically his hits with Kelly Clarkson. The chorus to Gaga's newest single, "The Edge of Glory," may remind you especially of 2009's "My Life Would Suck Without You." Which is not to take anything away from either tune. "The Edge of Glory" is the closest Gaga gets to actually sounding sweet here. A sax solo from the E Street Band's Clarence Clemons helps. "[I'm] out on the edge of glory, and I'm hanging on a moment with you," she sings.
LADY GAGA
Born This Way
Interscope
$12.99



Gaga also dabbles in international dance-pop here – alternately singing lines in Spanish, German, French, even Portuguese – and the international flourishes help inspire some of her better jams, from the Latino-inspired "Americano" to the gritty German techno of "Scheibe," a feminist anthem with a title that can be a German curse word. Here's to girl power, you fuckers!
And praise be to God. Yes, really. Gaga is surprisingly gaga for God and religion all throughout Born This Way. Beyond the title track's reference to God's perfect creation and the "Judas" nod to Jesus and his betrayer, she also does a "dance…with my hands…above my head…like Jesus said" on "Bloody Mary." And the deluxe edition features a bonus track, "Black Jesus — Amen Fashion," which makes Jesus a fashion star. "Jesus is the new black," she says.
The deluxe version of Born This Way features 17 tracks and clocks in at almost two hours. But even at 14 tracks and just over 100 minutes, the regular version is overlong, unwieldy, exhausting.
If you still want more Gaga after all that, well, you were born differently than me.