"The real difference between last year and this year," says Scott Kenison, founding chief operating officer of the Atlas Performing Arts Center, "is that this year is a little more serious, a little less camp."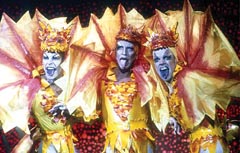 The Adventures of Priscilla, Queen of the Desert
He's referring to Atlas's second annual gay film series. While it still offers camp appeal, especially with films such as The Adventures of Priscilla, Queen of the Desert and Hedwig and the Angry Inch. But unlike last year's series, all 11 "Gay 101″ films draw from the "Gay Films Everyone Should See" lists compiled by Metro Weekly, which is a presenting sponsor of the series.
Kenison, who recently left the Atlas to move with his partner to Palm Springs, notes the benefits of seeing these films in public.
"I get tired of watching films at home," he says. "It's a completely different experience when you are in the theater with other people. Everything's funnier and the experience is heightened."
And unlike the recent spate of local outdoor film series, Atlas's offers air-conditioned comfort, plus a café serving food and alcohol.
Atlas's Thursday night Gay 101 series is just one of four themed film series at the H Street venue this summer — and camp with gay appeal is certainly represented in the inaugural Friday night "Musicals" series, featuring screenings of Chicago, Hair, Hairspray and the sing-a-long version of Grease.
"[The selected musicals] are films that most people know or are familiar with," says Kenison. "So we are encouraging people to sing along."
All together now: Summer loving, had me a blast… — Doug Rule
"Gay 101″ is Thursday nights and "Musicals" is Friday nights at 8 p.m. through Sept. 2, Atlas Performing Arts Center, 1333 H St. NE. Tickets are free, except for a $2 booking fee. Call 202-399-7993 or visit atlasarts.org for a full schedule.