Nearly two years after being unlawfully arrested for saying "I hate the police" on a D.C. street within earshot of a Metropolitan Police Department officer, Pepin Tuma's arrest record has been expunged.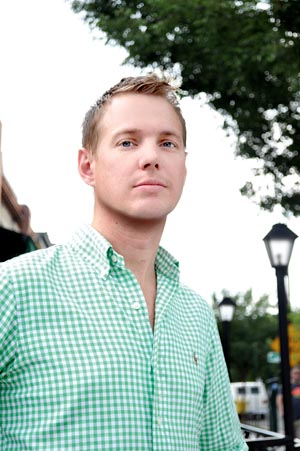 Pepin Tuma
(Photo by Todd Franson)
"My taunting was juvenile and I recognize that I have some measure of culpability in this, but I took responsibility for that immediately, for what I said," Tuma says today. "What I did was juvenile, but not illegal and it was important for [Officer James Culp] to recognize that what he did was a much more serious action."
It was shortly after midnight on July 26, 2009, that Tuma, 35, walked along U Street with two friends after leaving a house party, discussing the arrest of Harvard Professor Henry Louis Gates Jr. 10 days prior and how that was a result of excessive policing.
Noticing several police cars parked across the street, near the intersection of 17th and U Streets NW, engaging in what appeared to be a traffic stop of one civilian, Tuma pointed to the scene as another apparent example of excessive policing.
"I hate the police," he said to his friends in a "sing-song" voice.
Culp heard Tuma's taunt.
Culp pushed Tuma against a utility box and handcuffed him, advising Tuma that he was under arrest.
"I asked him what I was being arrested for," Tuma remembers. Culp responded with, "Just shut up, faggot."
"I was terrified and in disbelief," recalls Tuma. "He had me up against a giant metal box and I just kept repeating to myself, 'Stay calm. Don't make this worse.' I was clearly in a state of shock."
Despite the suddenly surreal turn of events, Tuma, a 2004 graduate of the University of Virginia School of Law, was aware of his rights. So were his two friends, also attorneys.
"I knew what my rights were all along, and I knew that they would be vindicated in the end," he says. "I think people are completely misinformed about what police officers can and can't do."
Tuma, who before July 26, 2009, had never been arrested, spent that night in jail.
"It was demeaning," he says of being incarcerated. "It was humiliating, especially when you know that you're not supposed to be there. And it's a little scary. You recognize that you're absolutely in somebody else's control. You literally have no way to get out of it without doing exactly what they say, which is particularly frustrating and unjust when you know that they are the people who unlawfully put you there to begin with."
Rather than put the whole episode behind him, though, Tuma sought to right this wrong with help from the American Civil Liberties Union and D.C. attorney Bennett Borden.
"Immediately after Pepin's arrest we filed a complaint with the Office of Police Complaints (OPC), which is an independent body from the Police Department," says Borden. "The same day, Chief Lanier ordered an internal investigation through the MPD's Internal Affairs Division (IAD)."
In the summer of 2010, the OPC concluded that Culp had arrested Tuma without probable cause.
After two recent IAD hearings, May 24 and June 6, that body is still deciding whether or not Culp will be fired for his actions that night two years ago. And Tuma is again making his voice heard.
"I made the recommendation to MPD that he not be terminated, because I thought it would be a learning experience and there would be an opportunity for something good to come out of this," Tuma says.
"He was on the force for 23 years and he made an egregious mistake, but I didn't want to ruin his life by having it follow him around forever."
While Culp's future MPD employment – and pension – remain in question, despite Tuma's effort on his behalf, Pepin's own complaint is nearly resolved, reaching settlement with the city earlier this month. The settlement provides for financial relief, including punitive damages and attorneys' fees, which Tuma declined to quantify, as well as expunging Tuma's arrest record. Culp also apologized to Tuma.
"I am satisfied with the result," Tuma concludes. "The entire time I've been working with the ACLU and Bennett to do three things: have officer Culp recognize that his actions were wrong; for him to be disciplined in some way; and [have him] continue on the police force."
And although Tuma broke no laws by saying, "I hate the police," he's come through this two-year ordeal with his own regret for having said it.
"It's not my goal to be offensive. And knowing now the process that ensued, I wouldn't wish this on my worst enemy."