"I think being in the Midwest, people don't expect it to be quite like that, but in Tulsa there's just a lot of support," says Eric Himan. "The politics are a little more conservative, but the people [there] fighting for equal rights and equal justice, fight really hard."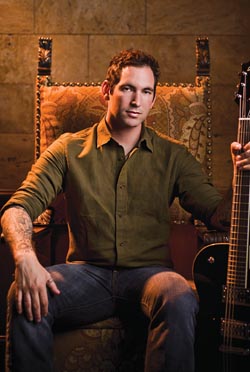 Eric Himan
(Photo by Jeremy Charles)
As a result, Tulsa, Okla., has a tight-knit — even well-funded — LGBT community, says the folk singer-songwriter who has made Tulsa his home for four years. The transplanted New Yorker lives there with his partner and two dogs.
Of course, as a full-time musician, Himan is generally on the road three weeks out of four. Himan doesn't think the near-constant touring puts any significant strain on his six-year-old relationship. "If you're with somebody you trust and somebody you love, it's just like any job," he says.
This Sunday, July 24, Himan appears at Solly's Tavern in D.C. The show coincides with a stop to record a live session at the studios of Sirius/XM's The Coffee House. His single "Save The Afternoon," drawn from his new album Supposed Unknown, is a hit at the station.
"I hate to sound clichéd, because everybody's recent work seems to be their favorite, but I feel like something changed," says Himan. "This CD just feels like it has a lot of space to it."
He gives much of the credit for the set's "warm sound" to trans singer-songwriter Namoli Brennet. He recorded the set in her Tucson, Ariz., home studio, enlisting her to perform backing vocals and play various instruments on the tracks. "It was very organic," he says. "There's something more relaxed with it than I think I've ever had with any of my earlier CDs."
Eric Himan performs Sunday, July 24, at 7 p.m. at Solly's Tavern, 1942 11 St. NW. Call 202-232-6590 or visit sollystavern.com.