Picture the adolescent boy, game controller in hand, sitting in front of his TV. In some virtual world of impossibly large-breasted women and explosive gore, he's fixated. Possibly for hours upon hours. The blinds are drawn to shut out the screen-glaring natural light, and whatever nutrition that might come his way is probably a product of PepsiCo.
That is the cliché. Although, there might be a kernel of truth if you're applying that stereotype to young Dan Hewitt.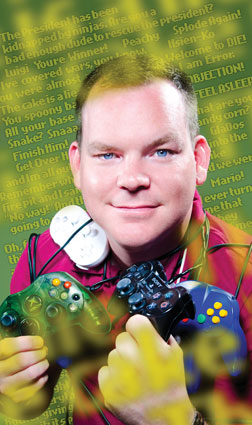 Dan Hewitt
"Nintendo was doing an American tour with one of their games, where you could go and compete," says Hewitt. "My mom actually let me take two days off of school so I could practice video games. She said, 'You're doing fine in school. A couple days isn't going to set you back. This is something that's important to you, and I'm supportive.' It was a great opportunity."
Turns out his mother's support was actually a sort of investment. Roughly 20 years later, that game-playing adolescent boy is the 35-year-old vice president for media relations and management at the D.C.-based Entertainment Software Association (ESA), the entity representing the bulk of video game producers. And part of his job is to point to the data that illustrates that the cliché he once embodied is so very outdated.
"The thing that surprises most folks is when we start talking about the average age of a computer and video game player," Hewitt shares, statistics at the ready. "What folks are shocked to find out is that the average age of a game player is 37 years old. And that almost 30 percent of computer and video game players are over the age of 50. So this notion that video games are just for teenage boys just isn't accurate anymore. In fact, more adult women play video games than teenage boys."
Beyond the demographics, there are also more immediate examples, like Hewitt himself. When you think of "gay" and "video game," one might be inclined to think of the Grand Theft Auto game series installment, "The Ballad of Gay Tony." At least, it's likelier that such a game would come to mind, rather than Hewitt. But there he is, the openly gay Logan Circle resident, often representing the face of the industry. It's an industry welcoming of diversity.
"The people who create games are incredibly passionate, and they're incredibly talented," Hewitt says of the folks behind the virtual curtain who craft the sometimes breathtaking arenas where people electronically entertain – and educate to an ever-greater degree – themselves. "They're not only great artists with drawing, sound and storylines, but they're great in science and technology, in engineering and math.
"The video game community, writ large, is incredibly welcoming and appreciative of anyone who wants to come in and talk about games, play games. It's a welcoming environment, despite what some news headlines may say. There really are video games out there for every taste. Someone might think they're too cool to play video games, but it's simply because they haven't tried some of the new titles out there."
Those new offerings might be the traditional – killing zombies, say – or the world of smart phone games, such as Angry Birds. But Hewitt also points to "games" that put students in the Darfur war zone or that surgeons train with as they delicately explore the virtual maladies of computer-generated patients. Among these varied platforms, gamers work with industry to keep things civil. Going to war in an online community's game can certainly get the adrenalin pumping, but that's no excuse for hateful insults, Hewitt says, explaining that console companies and players themselves will take actions against repeat offenders, sometimes leading to suspension of online-gaming accounts.
And the breadth of what's available has evolved so far that there's even a movement stirring to replace the possibly outdated phrase "video game" with "interactive entertainment software." But Hewitt isn't jumping on that tiny bandwagon.
"I just don't think I'm going to be able to get a whole lot of journalists to write 'interactive entertainment software,"' he laughs. "Especially when you're worried about column inches, I think 'video games' gets them in there a little faster."
Though the language may not be perfect, everything else comes pretty close as far as Hewitt is concerned. So much so that the Nintendo-loving adolescent has to stop and catch his breath when he thinks about the dream job he landed.
"I know how blessed and lucky I am," he says. "I would never in a thousand years have ever thought this possible. You hear about jobs in the entertainment industry, in Hollywood, in Nashville, in New York…. But to work in Washington, the city that I love, and to work in the entertainment industry? I'm incredibly lucky because those jobs are few and far between."