Love hurts. Work is pointless. Authority is a joke.
Life in Uncle Vanya may not be grand, but Chekhov certainly is — particularly in the hands of the Sydney Theatre Company, which provides a heart-wrenching, often hilarious take on the classic Russian tragicomedy.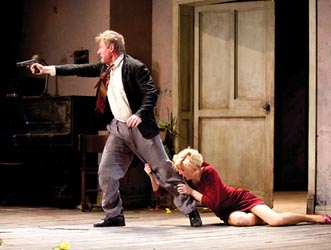 Richard Roxburgh as Vanya and Cate Blanchett as Yelena in Sydney Theatre Company's Uncle Vanya
(Photo by Lisa Tomasetti)
The ennui is far more oppressive than the heat and buzzing flies that have descended upon the shabby estate where Vanya (Richard Roxburgh) and his niece Sonya (Hayley McElhinney) have devoted prime years to the workaday drudgery that keeps the estate afloat and supports a refined urban lifestyle for Sonya's father, Professor Serebryakov (John Bell), and his glamorous second wife, Yelena (Cate Blanchett).
The egomaniacal professor and the restless Yelena have come for a visit, causing no small amount of disruption. The poor old nanny, Marina (Jacki Weaver), can't get over the fact that adhering to the professor's erratic schedule — veering between secluded work sessions and sleepless nights fretting over his health — has resulted in lunch being served at 7 in the evening.
The estate ostensibly belongs to Sonya, inherited from her mother, who was Vanya's beloved sister. But the professor clearly calls the shots (or tries to), ultimately proposing a plan that would uproot estate life, but only — as usual — to his benefit.
However, before that point of contention emerges, there is love in the humid, 1950s-era Soviet air. (This adaptation by Andrew Upton — Blanchett's husband, with whom she leads the Sydney company — moves Chekhov's setting forward about 50 years.) Disheveled, dispirited Vanya, who has long desired Yelena, could kick himself (and looks as though he has) for not pursuing her before her marriage to the professor. But the man at the estate who piques her interest is neither Vanya nor her husband — it's Astrov (Hugo Weaving), the bearded, leather-coated country doctor who becomes a frequent visitor.
Astrov wants her, too, though the dalliance is merely a diversion; Yelena treasures her city life, even if she doesn't treasure the man she must live it with. And it's enough to distract Astrov from the young woman who adores him and would marry him in a heartbeat, if he'd only notice her: Sonya.
Hungarian director Tamas Ascher guides the steadily building tension with an unwavering hand, crafting an engrossing environment where the actors luxuriate in lulls as much as they do language. The Oscar-winning Blanchett — a marquee attraction who is more luminous than any mere sign that's ever borne her name — delivers such a deft, delightful performance that she alone would be reason enough to secure a ticket.
UNCLE VANYA





To Aug. 27
Kennedy Center
Eisenhower Theater
$59-$135
202-467-4600
kennedy-center.org
Yet Roxburgh's Vanya proves that Blanchett isn't the only blond bombshell onstage. He simmers and sulks and yearns — and ultimately detonates with such force that he very nearly destroys himself. Weaving's Astrov is a fascinating study of a man who would swagger more if he weren't staggering around so much from the vodka he loves. And Bell's professor strikes the perfect tone of pomposity — encouraged by the one-woman cheering section that is Vanya's dotty old mother, Maria (Sandy Gore), who can't get enough of the professor's boorish pronouncements and can't stand to hear him criticized by Vanya. (Poor man. Whose mother favors her son-in-law over her son?)
But Sonya — ah, Sonya. If Blanchett and Roxburgh are the fair-haired bombshells of this Uncle Vanya, McElhinney proves to be its secret weapon: a land mine covered in dirt, with a delayed response to being stepped on time and time again.
Maybe it's just the actress's luck that Chekhov has sent Yelena and the professor away — not to mention Astrov, perhaps her only chance at happiness — but it's McElhinney's Sonya who's left to make the final indelible impression of the evening, struggling to give Vanya, and herself, the strength to survive their lot in life, and doing it with a soaring command of Chekhov's language in a moment that takes your breath away and leaves a tear in your eye.
Love hurts. Work is pointless. Authority is a joke. Cry, Uncle, indeed.